OCTOBER 16, 2005
Race incidents from Shanghai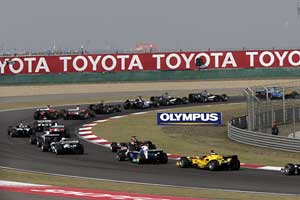 There is drama during the recognition laps as Michael Schumacher and Christijan Albers collide. Both cars stop with serious damage, resulting from the Minardi hitting the Ferrari, which was driving slowly across the road into the path of the speeding Minardi. Both men return to the pits, switch into spare cars and start from the pitlane. At the end of the parade lap Narain Karthikeyan goes into the pits.

* Lap 1: At the start Fernando Alonso takes the lead with Giancarlo Fisichella just taking second despite an attempt to Kimi Raikkonen to grab the place at the first corner. Juan Pablo Montoya gets away quicker than Jenson Button to grab fourth. Button is chased by David Coulthard with Rubens Barrichello next ahead of Ralf Schumacher, Mark Webber, Jarno Trulli and Takuma Sato, up from 17th to 12th after what looks like a jumped start.

* Lap 4: Alonso has managed to build a lead of five seconds, while Fisichella has the two McLarens behind him although he does not seem to be under much pressure. Sato is informed of a drive-through penalty and goes into pitlane. He drops from 12th to 20th.

* Lap 7: With a seventh consecutive fastest lap Alonso increases his lead to nearly 8secs but it looks like he is running a light fuel load. The order is unchanged although at the back Sato passes Albers for 19th.

* Lap 8: Sato passes Karthikeyan for 18th.

* Lap 10: Alonso's lead is 11.2secs while Fisichella is now under serious attack from Raikkonen and Montoya. Sato passes Robert Doornbos to take 17th position.

* Lap 15: Alonso's gap is up to 15.7secs and Raikkonen is clearly being held up by Fisichella. Montoya is right behind them. There is then a gap back to Button and Coulthard. Behind them was Barrichello and Ralf Schumacher. Webber was 10th ahead of Jarno Trulli. In the midfield Monteiro pits and falls from 15th to 19th.

* Lap 17: The leaders find a drain cover loose in Turn 10. Fisichella and Raikkonen miss it but Montoya hits it hard with his front right tyre. Further back Coulthard is the first serious runner to stop and he falls back from sixth to 13th. Also pitting is Trulli who drops back from 10th to 15th. Also stopping is Doornbos.

* Lap 18: Alonso pushes out his lead to 19secs with the fastest lap, suggesting that he is about to stop. Behind him Montoya goes into the pits to check his car is OK. Button also pits. Race Control decides to send out a Safety Car, which takes away Alonso's lead but also wipes out any possible fuel advantage that McLaren might have. The first cars to pit are backmarkers Sato and Karthikeyan.

* Lap 19: All the cars come into the pits, apart from those who have already stopped. It is significant that Montoya stops for a second time. Behind the Safety Car the order is Alonso, Fisichella, Raikkonen, Barrichello, Ralf Schumacher, Webber, Button, Coulthard, Massa and Michael Schumacher. Next up is Christian Klien ahead of Antonio Pizzonia.

* Lap 23: There is consternation as Michael Schumacher spins off for no apparent reason and retires. Monteiro pits again.

* Lap 24: Still behind the Safety Car, Villeneuve drops back from 13th to 16th and Montoya pits and retires, with what turns out to an engine problem. The retirement of Montoya is a major blow to McLaren's already damaged ambitions.

* Lap 25: The race restarts but the order remains unchanged.

* Lap 28: Alonso's lead is out to 4.2secs ahead of Fisichella. Raikkonen is unable to challenge. There is then a big gap back to Barrichello who is holding back Ralf, Webber and Button. Coulthard is closing up. Further back Sato makes a mistake at the end of the straight and runs off track, dropping behind Doornbos and Villeneuve.

* Lap 29: Karthikeyan crashes heavily at the exit of Turn 13. The Indian's Jordan then spins across the road, dumping wreckage and fuel all across the road. Villeneuve narrowly misses the spinning car. A Safety Car is sent out again.

* Lap 30: Most of the leading runners head for the pits. Alonso arrives ahead and then Fisichella slows down those behind him. This allows Alonso to gain and advantage while also avoiding a loss of more time for himself as he does not have to sit behind Fernando as long as might have been the case. Fisichella will later be penalised for the move, which the drivers had been told was not acceptable after McLaren did a similar thing at Spa. Several drivers opt not to stop and as a result move up the order. At the end of the lap Alonso leads Ralf Schumacher, Massa, Klien and Raikkonen. Behind the McLaren are Fisichella, Barrichello, Sato and Webber.

* Lap 33: Button passes Monteiro behind the Safety Car, moving up to 10th position.

* Lap 35: The race restarts and there is drama as Sato suddenly slows and drops out. In the course of the lap Pizzonia loses time and falls to 15th place behind Doornbos.

* Lap 36: Alonso opens up his lead again to 3.3secs. Raikkonen is stuck behind Klien. Further back Coulthard passes Monteiro for 10th position.

* Lap 41: The order has been settled for five laps with Alonso three seconds ahead of Ralf and cruising. Massa is third with Klien and Raikkonen with him. Fisichella is next up and then comes Barrichello with a stream of cars in his wake led by Webber. At the back Pizzonia passes Doornbos for 14th.

* Lap 44: Massa pits but he has gained enough time to rejoin in sixth, ahead of those who have been held up by Barrichello. Further back Trulli suddenly drops behind Villeneuve and Pizzonia. Barrichello makes a mistake and runs wide and so Webber and Button get ahead.

* Lap 45: Klien pits and drops from third place to fifth. Coulthard muscles his way ahead of Barrichello to move to ninth.

* Lap 46: Barrichello goes into the pits and drops from 10th to 14th. Villeneuve passes Monteiro to take 11th.

* Lap 47: Ralf stops but he has gained time and so re-emerges in fourth place. Alonso thus leads Raikkonen by 13secs. With Fisichella fourth Renault is in a strong position, even if Kimi catches Alonso and wins the race. Further back Pizzonia overtakes Monteiro to move back up to 11th.

* Lap 48: The FIA announces a drive-through penalty for Fisichella for obstructing other cars in the pitlane.

* Lap 52: Fisichella goes into the pits and so Ralf gets up to third place. Giancarlo rejoins in fourth place. At the back Albers slows and heads for the pits with a wheelnut problem.

* Lap 53: Raikkonen is charging and reduces the gap to just over 10secs but it is clear that Alonso is not pushing as hard as he could. Further back Barrichello and Doornbos pass Trulli, who is clearly in trouble.

* Lap 54: Raikkonen sets the fastest lap of the race and closes the gap to 8.3secs. Further back Webber is attacking Massa for sixth place. At the back Trulli pits, and rejoins.

* Lap 56: Raikkonen sets another fastest lap and has closed the gap to 4secs by the chequered flag but Alonso wins his seventh win of the year. Fisichella finishes right behind Ralf but the Toyota still takes third place. Klien is fifth while Massa gets to the line in sixth with Webber in his wheel tracks. Button is a disappointing eighth with Coulthard ninth and Villeneuve 10th. On the last lap Pizzonia's Williams stops out on the track so Monteiro is 11th ahead of Barrichello. Doornbos finishes a lap down but is still a minute ahead of Trulli.