OCTOBER 4, 2005
Exit BAT - with a message for its rivals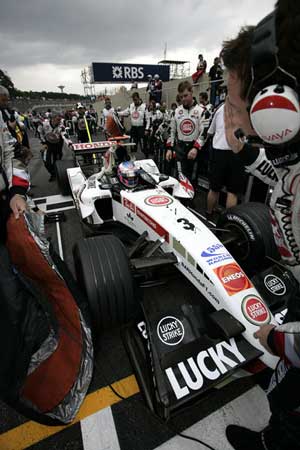 British American Tobacco has confirmed that it has agreed the sale of its 55% stake in BAR Honda to the Honda Motor Company. The sale, which will be completed on December 31, means that Honda Motor will end up owning 100% of the team, which was established eight years ago after the purchase of the old Tyrrell team. BAT will remain the team's primary sponsor in 2006 but will then honour its commitment to the International Tobacco Marketing Standards agreement, signed in New York City on September 11 2001. This was a deal between Philip Morris, British American Tobacco and Japan Tobacco which defined the minimum restrictions which the companies agreed to place on themselves. They created a common code of advertising and sponsorship standards which included an agreement to end sports sponsorships on December 1 2006 on the understanding that the sport involved requires "above-average physical fitness for someone of the age group of those taking part".

"It will be sad to end our association but it is immensely satisfying to leave the team in the competent hands of Honda who are proven winners in the sport," said BAT's director of marketing Jimmi Rembiszewski. "

The BAT announcement included a clear hint to its rival tobacco companies that it expects them to honour the agreement as well. Philip Morris recently announced that it will be continuing its sponsorship of Ferrari until the end of 2011, although it did not say that the cars would be seen running in Marlboro colours. Philip Morris may well opt to sell the space on the cars to other companies.