OCTOBER 3, 2005
The development of Silverstone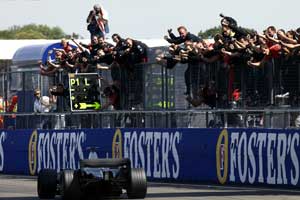 The British Racing Drivers' Club, which owns the Silverstone racing circuit, home of the British Grand Prix, is advancing with its plans to completely redevelop the facility so that it is brought up to the same standard as the new circuits added to the Formula 1 calendar in recent years. There is already planning permission for the development of a 75-acre science and technology park. At the moment the BRDC has a contract to host the British Grand Prix until 2009 but it needs to take action if it is to have contracts beyond that. The club is now in the process of putting together a development plan and finding contractors to carry out the work.

There are considerable restrictions on what can be done at the circuit and, inevitably, some resistance within the club to redevelopment but there seems to be little alternative if the club is to keep the British Grand Prix.

One of the principles that has been laid down by the local planning authorities is that development should be "restricted to motorsport related activity and ancillary leisure, recreation or training facilities" but this must be balanced with "the importance of ensuring a high quality environment; and "the need to ensure that development proposals have no greater impact than at present, on the rural and visual character of the countryside adjacent to the circuit, and where possible enhance that character".

The plan does allow for "tourism or leisure development of an appropriate scale which would be complementary to and support the use of the circuit for motorsport, and which will extend the attractiveness of the site to a wider range of visitors and contribute to promoting Silverstone as a year round destination".