SEPTEMBER 28, 2005
F1 manufacturers bind together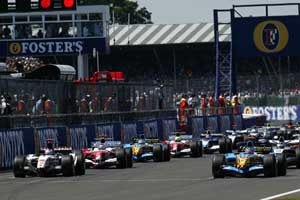 Five manufacturers and seven F1 teams met at Schloss Hohenkammer, a castle to the north of Munich, on Wednesday and the manufacturers committed themselves to move forward to improve the sport and compete only in a championship which satisfies the "fundamental principles of an equitable World Championship".

The five manufacturers all signed a legally-binding agreement not to break away from the group, sending a strong message to counter all the talk of the alliance crumbling. They also agreed to instruct ISE to push ahead with negotiations with "key parties" over the future structure of a new series. This presumably means circuits, sponsors, broadcasters and so on. They also agreed to encourage those who have not signed to join the agreement in the future.

We understand that the group, under the chairmanship of BMW's Burkhard Goschel, discussed the problems that exist between them and the Formula One group and with the FIA.

The decision basically means that the parties involved will not negotiate individual deals and signals their intention to find a better solution than what is currently on offer. Their argument is that they are not interested in short-term compromise and insist on a better long-term deal from all concerned.

The decisions, which will be announced later today, leave Williams and Minardi in a rather difficult situation as they are not directly linked with a manufacturer. Minardi will almost certainly sign up to the FIA-FOM-Ferrari plan to extend the Concorde Agreement to the end of 2012. This is likely to happen as soon as the legal details of the sale of the team are completed. These loose ends are due to be tied up tomorrow and thus an announcement from Minardi will probably come soon afterwards. This will mean that the FIA-backed series will have Ferrari, Red Bull Racing, Red Bull Minardi and Jordan. The manufacturers will have Mercedes-Benz, Renault, Toyota, Honda and BMW. In the middle will be Williams, which is independent but will be beginning an engine-supply deal with Toyota in 2007. Williams is understood to be receiving massive offers from the Formula One group to join Ferrari, a move which would strengthen that series considerably. Ultimately, there are three brands which are vital to the success of any F1 series: Ferrari, Williams and McLaren. At the moment everything is balanced with McLaren with the manufacturers, Ferrari with FOM and the FIA and Williams in the middle.