SEPTEMBER 26, 2005
Pizzonia staying on at Williams?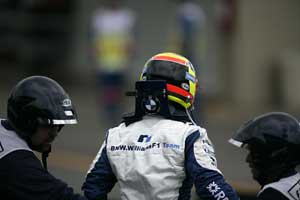 The word in the paddock in Brazil is that Antonio Pizzonia will complete the season with BMW Williams. Pizzonia has not been lucky in his two events at Belgium and in Brazil, being knocked out of the races on both occasions, in Belgium by Juan Pablo Montoya and in Brazil by David Coulthard. Pizzonia came into the team to replace the injured Nick Heidfeld but with the German driver having signed for BMW for next year there is little point in him staying on at Williams except to maintain stability. The team is striving to improve its current situation but with the relationship with BMW coming to an end and development on the new 2006 car being more important, it is unlikely that much progress is going to be made. The team is in a solid fifth place in the Constructors' Championship 22 points behind Toyota and 26 points ahead of BAR-Honda and given that this year Williams has only once scored more than 10 points in a race (with second and third at Monaco) the situation is not going to change and it makes no sense at all in investing more money in this year's car. Our understanding is that both Williams windtunnels are now working around the clock to develop the FW28.

Whether or not Pizzonia gets the drive next year is another matter as the team seems to be very keen on signing up Nico Rosberg.