SEPTEMBER 22, 2005
Jenson Button reveals (almost) all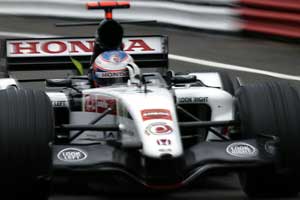 Jenson Button says that he is "ecstatic" that he has been able to negotiate his way out of his Williams contract for 2006 and 2007. But it has cost him a great deal of money and Button says that Honda has not been involved.

"It was done between Frank and myself," Button said. "It is not cheap for me, but I'm sure it will be the right thing. It was not a nice situation to be in but now we can look forward at the future and concentrate on winning the World Championship. Hopefully we can make our dreams come true."

Button said that the problems in recent weeks have taught him a lot.

"I have learned that F1 is not just about driving and that you have to learn quickly about the business."

Button said that he had not just walked away from Williams and had negotiated a deal.

"It was all down to me convincing Frank that it was me and not the people around me who were making the decisions," he said. "That really made the difference."

Jenson said that he was not worried about what people thought about what he had done.

"If you perform other things can be agreed behind the scenes," he said. "It is very difficult to make everyone happy."

Button would only say that the deal is "for longer than one year" and did not discuss how much money was involved. Rumours have suggested that Button has had to pay around $30m to buy his way out of the Williams deal.

BAR's Nick Fry said that he was extremely please at the outcome.

"Firstly because Jenson is a good driver and secondly because he is a team player. We are building the best team of people that we can and Jenson is an integral part of that."

Fry said that there was no decision yet on a third driver.