SEPTEMBER 25, 2005
Race incidents from Interlagos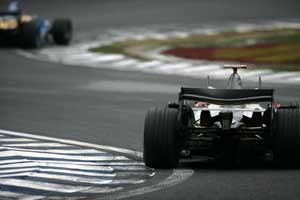 Rain is threatening as the grid lines up but there is a big crowd. Jacques Villeneuve starts the race from the pitlane following a parc ferme infringement by the Sauber team. At the end of the parade lap Tiago Monteiro goes into the pits because of a clutch problem.

* Lap 1: At the start Fernando Alonso takes the lead with Juan Pablo Montoya in second. Kimi Raikkonen makes a good start and passes Jenson Button and tries to go down the inside of Giancarlo Fisichella, who cuts him off ruthlessly. Further back there is lots of action as David Coulthard tangles with the two Williams-BMWs. Coulthard and Antonio Pizzonia retire on the spot but Webber goes around to the pits where there have to be extensive repairs. He eventually rejoins 25 laps behind, hoping that others in front of him will retire. On the exit of the Senna turn Michael Schumacher forces Christian Klien wide to grab fifth. On the run down the back straight Raikkonen goes past Fisichella and moves to third and Michael Schumacher takes advantage of the moment to push Fisichella back to fourth. A Safety Car is despatched to all for the mess at the start to be cleared up and the race is neutralised. The order behind the Safety Car is Alonso, Montoya, Raikkonen, Schumacher, Fisichella, Button, Klien, Rubens Barrichello, Ralf Schumacher, Felipe Massa, Takuma Sato and Narain Karthikeyan.

* Lap 3: The race restarts with Montoya tucked right up behind Alonso and on the back straight the Colombian pulls out and passes Fernando. Further back Fisichella overtakes Schumacher to take back fourth place. Further back Trulli passes Christian Albers to move to 13th position.

* Lap 4: The order has settled down with Montoya edging away at the front and Raikkonen stuck behind Alonso.

* Lap 14: For 10 laps the order is unchanged and there is little drama. Montoya's lead increases to 4.2secs while Raikkonen is 2.4secs behind Alonso. Further back Trulli finally manages to overtake Karthikeyan for 12th position.

* Lap 17: Felipe Massa is the first man to stop for fuel and drops from 10th place to 16th.

* Lap 18: Karthikeyan is the next to stop and drops from 12th to 17th.

* Lap 20: Christijan Albers stops and falls from 12th to 16th, getting ahead of Karthikeyan as a result. At the same time Villeneuve finally overtakes Robert Doornbos's Minardi to move to 12th position.

* Lap 22: There is a surprise as Alonso is the first of the leaders to head for the pits. This put Raikkonen to second position, just over seven seconds behind Montoya. Fisichella is third with Michael Schumacher fourth.

* Lap 23: Fisichella pits and Schumacher is third, albeit 12secs behind Raikkonen. Further back Barrichello pits and falls back from eighth position to 11th. At the tail of the field Doornbos and Monteiro stop and so Albers moves to the front of the Minardi-Jordan battle.

* Lap 24: Klien is the next of the cars with lighter fuel loads to stop. He falls back from sixth to 11th.

* Lap 26: Schumacher and Button both stop and Ralf Schumacher follows them into the pitlane. This puts Alonso back to third place ahead of Schumacher, who manages to get out ahead of Fisichella. Takuma Sato is up to sixth but still has to stop while Button is seventh and Trulli eighth.

* Lap 28: Montoya heads into the pits and Raikkonen takes the lead. Montoya rejoins in second place and still has plenty of time to get out ahead of Alonso. Behind Fernando Fisichella is stuck behind Schumacher.

* Lap 31: Raikkonen pits but he has lost so much time early on that Montoya is back in the lead again.

* Lap 32: Trulli stops in the midfield. He falls from eighth to 12th.

* Lap 34: The Villeneuve comes in and drops behind Trulli and Massa. Doornbos retires with an engine problem.

* Lap 35: At the back Karthikeyan stosp for the second time and drops behind Monteiro.

* Lap 37: Sato is the last man to stop for the first time. He falls from sixth place to 10th.

* Lap 38: The order at the front is established with Montoya ahead of Raikkonen and then a 10secs gap back to Alonso. There was then a much bigger gap back to Schumacher, who is still fighting Fisichella for fourth. Button is sixth but under pressure from Barrichello. Klien is eighth and Ralf Schumacher is the last man unlapped in ninth.

* Lap 44: Barrichello passes Button in the Senna curve. At the back Albers pits and falls behind Monteiro.

* Lap 46: Massa has his second pit stop and falls behind Villeneuve. Further back Monteiro pits and stays ahead of Albers.

* Lap 48: Alonso has his second pit stop and Schumacher moves to third again.

* Lap 49: Fisichella stops again and falls from fourth to sixth.

* Lap 50: Barrichello, now running fifth, stops for the second time. He rejoins ninth.

* Lap 53: Trulli has a surprise second stop and drops from 12th to 13th.

* Lap 54: Montoya, Schumacher, Klien and Villeneuve all pit. Raikkonen goes back into the lead. Montoya is second with Alonso up to third. Schumacher comes out ahead of Fisichella again. Klien drops from eighth to ninth.

* Lap 55: Button has his second stop and emerges behind Barrichello in eighth place.

* Lap 56: Ralf Schumacher has his second stop and he comes out ahead of Klien and thus moves up a place. Further back Monteiro retires with a mechanical problem.

* Lap 71: The last few laps see no changes with Montyoya leading home Raikkonen and Alonso. The remaining points go to Michael Schumacher, Fisichella, Barrichello and the lapped Button and Ralf Schumacher. Klien is ninth and out of the points ahead of Sato, Massa and Villeneuve. Trulli disappears on the last lap with a technical problem but remains in 13th place. At the back Albers wins the Minardi-Jordan battle. Fernando Alonso wins the World Championship, becoming the youngest man ever to hold the title. McLaren takes the lead in the Constructors title.