SEPTEMBER 11, 2005
Race incidents from Spa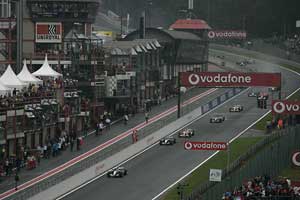 The clouds are threatening as the grid forms up. Minardi keeps both of its cars in the pitlane, obviously deciding to change settings before the start.

* Lap 1: When the lights go out Montoya takes off in the lead with Jarno Trulli having a look down the inside of Kimi Raikkonen but the Finn managing to stay ahead. Fernando Alonso is fourth ahead of Ralf Schumacher but Michael Schumacher passes his brother at the top of the hill to take fifth. By the end of the lap Ralf has been overtaken by the BARs of Takuma Sato and Jenson Button. Felipe Massa is ninth ahead of Mark Webber, David Coulthard, Giancarlo Fisichella. Christian Klien and Rubens Barrichello. Antonio Pizzonia is 15th with Jacques Villeneuve 16th. The two Jordans and the two Minardis bring up the rear. At the end of the lap Montoya is 1.2secs ahead of Raikkonen with Trulli two seconds behind them.

* Lap 2: Montoya sets the fastest lap and increases the lead to 1.4secs. Trulli is already three seconds behind Montoya. Further back Coulthard and Fisichella are both able to pass Webber and further back Pizzonia passes Barrichello for 14th place.

* Lap 4: Albers comes into the pits to make changes to the Minardi.

* Lap 6: Little has changed at the front with Trulli unable to keep up. Alonso is next ahead of Michael Schumacher and Sato. Button is under attack from Ralf Schumacher. Further back Fisichella passes DC going down into Eau Rouge.

* Lap 7: Ralf passes Button for seventh position. Fisichella passes Massa to move to ninth place. Further back Robert Doornbos stops to change the tyres on his Minardi.

* Lap 9: Fisichella passes Button for eighth.

* Lap 10: Ralf Schumacher comes into the pits for the first of the scheduled stops.

* Lap 11: Giancarlo Fisichella loses control of his car in Eau Rouge and crashes heavily. The Safety Car is sent out. All the frontrunners come into the pits. Several teams decide to risk dry tyres. On the run into the pits Raikkonen slows down, a move which allows Montoya to get to the pits with plenty of time to come and go before Raikkonen arrives. Other teams behind have to deal with two cars at the same time.

* Lap 12: The Safety Car is still out but the drivers who are on dry tyres realise that they have made an error and Michael Schumacher, Sato, Coulthard, Webber, Button and Pizzonia all go back into the pits.

* Lap 13: Trulli and Klien come back to the pits but the delay means that both are down the back. The order for the restart is Montoya ahead of Villeneuve, Ralf Schumacher, Raikkonen, Alonso, Massa, Barrichello and Monteiro.

* Lap 14: The race restarts. Almost immediately Sato runs into the back of Michael Schumacher at La Source and both men are out of the race. Further around the lap Villeneuve goes wide and Ralf Schumacher moves to second with Raikkonen third and Villeneuve in fourth but under pressure for Alonso, Massa, Barrichello and Monteiro.

* Lap 15: Montoya has pulled out a 3.6secs lead from Ralf and Raikkonen. Further back Webber passes Monteiro for eighth place. Further back Pizzonia overtakes Narain Karthikeyan for 12th place.

* Lap 17: Ralf Schumacher is going very fast and closing on Montoya, obviously benefiting from a lighter fuel load. Raikkonen is a steady third

* Lap 18: Button passes Monteiro for ninth.

* Lap 19: Coulthard, who is running 11th, retires with a mechanical problem.

* Lap 20: Villeneuve finally comes into the pits and falls back from fourth place to eighth. Jacques rejoins on intermediates but finds it impossible to get heat into the tyres.

* Lap 24: Ralf Schumacher is back in the pits to take dry tyres. Further back Button passes Villeneuve around the outside of the Pouhon corner, taking eighth place. At the tail of the field Doornbos goes off, having tried a switch to dry tyres.

* Lap 25: Ralf has a spin at the top of the hill and goes off and heads back to the pits to go back to intermediates. This drops him back to 14th.

* Lap 27: Raikkonen is closing fast on Montoya, his car handling better and better as the fuel is burned off. Further back Villeneuve is really struggling and is overtaken by Monteiro for eighth place. Further back Ralf passes Klien for 13th.

* Lap 28: Pizzonia passes Villeneuve for ninth place. The Sauber driver is then involved in a lively tussle with Karthikeyan for 10th position.

* Lap 29: Raikkonen sets the fastest lap of the race to close to within two seconds of Montoya. Massa, who is running fourth pits and switches to dry tyres. He rejoins in ninth.

]

* Lap 30: Monteiro pits from seventh place. he drops back to 13th.

* Lap 31: Barrichello stops again and drops from fourth place to sixth but stays on intermediates. Furtehr back Klien stops. Massa has a spin.

* Lap 32: Alonso and Webber both pit. The two men are running third and fourth and rejoin third and sixth. Also stopping are Karthikeyan and Trulli. Massa comes back to the pits to go back to intermediates.

* Lap 33: Montoya pits and so Raikkonen goes into the lead. Montoya rejoins second. Button also stops and drops behind Barrichello and Webber. Pizzonia also stops and falls from seventh to eighth.

* Lap 34: Raikkonen sets the fastest lap of the race as he builds himself an advantage.

* Lap 35: Raikkonen does another quick lap and then went into the pits. He gets out in the lead. Montoya is second, six seconds behind. Further back Button passes Webber for fifth. Further back Trulli spins out of the race. Masssa passes Klien to move up to 11th.

* Lap 38: Button passes Barrichello at the Bus Stop chicane to take fourth place. Webber goes into the pits to switch to dry tyres.

* Lap 39: As Webber is able to lap fast Williams calls in Pizzonia to put him on to dry tyres.

* Lap 40: Barrichello and Ralf switch to dry tyres hoping to make ground in the last few laps. Webber sets the fastest lap of the race.

* Lap 41: Montoya is lapping Pizzonia when the Brazilian runs into the back of the McLaren. Both cars are out and McLaren's dream of a 1-2 result is over. Alonso is second. The accident is a complete disaster for McLaren. The crash means that Raikkonen is nearly 40secs clear of Alonso with Button third and Webber fourth. Barrichello is fifth and Villeneuve sixth. Ralf Schumacher on dry tyres is closing fast, while everyone else is a lap down, led by Monteiro.

* Lap 44: Raikkonen wins the Belgian GP but Alonso's position in the World Championship strengthens as he is 25 points ahead of Raikkonen with a maximum of 30 available. Button is happy to be third and Webber delighted with fourth. Barrichello comes home fifth and Ralf Schumacher crosses the line alongside Villeneuve but misses out on sixth place by a few feet. Monteiro takes the final point after a good showing for Jordan. Klien is ninth ahead of Massa and Karthikeyan. The two Minardis complete the finishers.