AUGUST 3, 2005
Why be a test driver?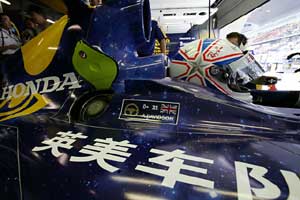 The announcement that Rubens Barrichello is moving from Ferrari to be replaced by Felipe Massa sends out a clear message in the F1 fraternity: being a test driver these days is a ticket to nowhere.

Barrichello will slot into BAR where Anthony Davidson will just have to sit and watch another opportunity fading. Over at Ferrari they have given up even pretending: Luca Badoer and Marc Gene are handsomely paid to pound around and do the grunt work. It is a similar story at McLaren where Alexander Wurz and Pedro de la Rosa wait and hope that Juan Pablo Montoya will play some more tennis or perhaps even fall off a motorbike and down at Renault poor Franck Montagny must feel like the token gesture to France that he is. Ricardo Zonta at Toyota may also feel a little hard done by

Testing miles, it is very clear, do not equate to racing miles and thus it is better for a young driver to be racing for a smaller team (a la Massa) than to be testing for a big team. Anthony Davidson, Antonio Pizzonia, Ricardo Zonta and Franck Montagny are not names being mentioned much at the moment in relation to available drives in 2005 and yet they have all covered endless mileage in testing. In the course of the last two years Ferrari test driver Luca Badoer (not surprisingly) has completed 28,300 miles of testing. Montagny has done 22,000, despite testing bans, and Zonta is not far behind with 21,000. Takuma Sato has done around 20,000 (he tested for BAR remember in 2003) and Davidson 16,000, which is about the same mileage as Michael Schumacher.