JULY 20, 2005
Michelin wants to spread the load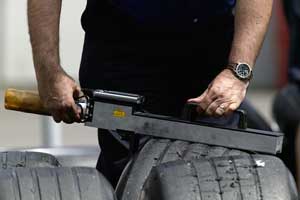 Michelin has announced that it has received a request from an eighth Formula 1 team and while it is happy that this demonstrates that F1 teams want to use its products, it is calling for Bridgestone to take on more teams.

According to the Formula 1 rules if there are two tyre suppliers present in the sport each of them must, "if called upon to do so" be prepared to equip up to 60% of the entered teams on ordinary commercial terms. This means that Bridgestone needs to be willing to supply six teams. At the moment the Japanese firm supplies just Ferrari, Jordan and Minardi.

"Formula 1 must remain the marvellous technological showcase that it is, thus allowing the world's automobile players to compete, whilst offering a true show for the fans, as well as providing benefits within the automotive industry," says Edouard Michelin, the boss of the French tyre company. "It is with this in mind that tyre manufacturers must be able to make their own contribution towards improving the performances of the teams they supply. Michelin is therefore completely open to allowing for a more balanced split of teams among tyre manufacturers, starting as early as the 2006 season."

What does this mean?

It would seem to suggest that Michelin is inviting Bridgestone to take several teams off its hands, without being seen to force the situation. This is obviously bad news for a number of teams as they may end up being forced to run Bridgestone tyres, which are currently not very competitive. Much will obviously depend on the contractual relationships between the teams but one might speculate that the team which is most likely to face a change is Red Bull Racing. If Red Bull switched to Bridgestone then Michelin would be supplying 60% of the field and Bridgestone 40%.