JULY 14, 2005
The future of Scott Speed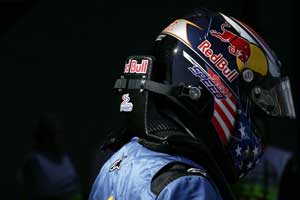 The rumour mill in Formula 1 circles started whirring recently after the announcement that David Coulthard was to re-sign for Red Bull Racing in 2006. That sent out various messages, not least that there was obviously no opening for DC at BAR-Honda or if there was an opening, it was not as attractive an offer as Red Bull Ferrari. Logically, BAR-Honda must be better bet than Red Bull Ferrari in the short term and so Coulthard's decision would seem to indicate that BAR did not have a drive available for him. If that is the case one must ask who BAR has for next year because Jenson Button is supposed to be moving to Williams and Takuma Sato could easily be moving on because his performances this year have not really been suitably impressive. The current trend of thought in F1 circles is that Button will not go to Williams because the team is in the process of changing engines and that there are bound to be contractual clauses about that. This may not be the case. One could easily make the argument that Williams needs Button just as much as BAR-Honda does - if not more. The problem for both teams is that if they do not get Button, what are they going to do?

There is an argument that Button's value comes not just from his obvious ability but also from the fact that, as a favourite with the powerful British media in F1, his presence disguises a lack of success.

Alas, there are not two Jenson Buttons. So one team needs to look elsewhere. There is no shortage of drivers but none that are obviously outstanding. And in that circumstance, the obvious thing to do is to take a risk on a youngster because they are cheap and are in no position to negotiate complicated contracts.

This is good news for the boys in GP2 and already Adam Carroll is under contract to BAR, Heikki Kovalainen is a Renault-contracted driver, Nico Rosberg is testing for Williams. Scott Speed is also contracted to Red Bull but the team has no job for him and we hear that Speed may have decided that his contract with Red Bull is no longer valid and that he is now available to other teams. The big question is whether the American is going out on his own to see what offers come his way or whether he has a better offer already.

When one starts to consider the available options, the conclusion one reaches is that the likes of Ferrari, McLaren and Renault make little sense but a deal with Williams or BAR would make some sense. The two teams have strong American links and everyone is chasing big American sponsors at the moment, despite the fact that the debacle at Indianapolis showed F1 in a bad light.

But in F1 the attitude is always positive and it is true to say that the Indianapolis mess created more publicity for F1 than ever and that if the sport is now seen to be changing in a very public fashion, it is an encouragement for US sponsors rather than a handicap.

Watch out for Speed.