JULY 9, 2005
Button and Ferrari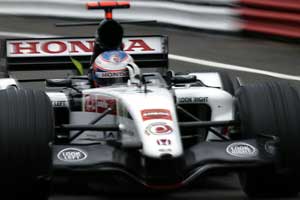 Jenson Button is being linked to a drive at Ferrari. The news was first rumoured in the Red Bulletin magazine, which is available only in the F1 paddock, and then popped up in the Daily Mirror. Button refused to deny the stories at Silverstone but it may not be as easy as it seems as even if he is free from BAR because of the poor results this year, he is still under contract to the Williams team. Much will obviously depend on the terms of that contract but most F1 driver contracts include a clause about a change of engine manufacturer and that could allow Button to get out of the Williams deal and that would line him up for a deal at Ferrari, which would be a year alongside Michael Schumacher and then a step up into the number one seat.

This is fine in theory but there are a lot of things in the way, not least the fact that Rubens Barrichello has a two-year contract with Ferrari. Barrichello may want to leave and join BAR-Honda where he could be the number one driver but that does not mean that Williams will not have factory engines.

The fact that Button will not deny the rumours is not necessarily significant. Stories about Ferrari will do no harm at all getting F1 into the papers and thus attracting more TV viewers on Sunday.