JULY 2, 2005
Ferrari under pressure from the Boy Scouts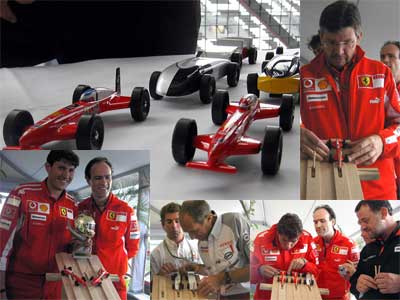 The Boy Scouts of America gave Ferrari a scare on Friday night at Magny-Cours in the French GP "Pinewood Derby". The competition was organised by the FFSA, to take the F1 minds off the problems of late, and called on the F1 teams to design miniature wooden cars from kits consisting of a 7-inch block of wood, four plastic wheels, four nails to serve as axles and a set of rules, which state that cars must weigh "not over 5 ounces" and can be powered only by gravity. Ferrari, Minardi, Red Bull and Toyota joined the competition with the opposition coming from the most successful machinery from Pack 112 of the Boy Scouts of America in Paris.

The Pinewood Derby was invented more than 50 years ago by a boy scout leader in Manhattan Beach, California, who was looking for a wholesome, constructive activity that would foster a closer father-son relationship and promote craftsmanship and good sportsmanship through competition. Since then 100 million cars have been built in America.

The Formula 1 teams produced some beautiful machinery, notably from Ferrari and Red Bull but both had great difficulty getting on terms with the best of the Cub Scout cars, notably the designs of Travis Faro (a car that had never been beaten) and a second from Christopher Kulmayer. Initially Faro's pick-up truck was unbeatable, beating all challengers but up against Ferrari's number one car it was finally defeated by a tiny margin in an all-important heat. Kulmayer's car was unbeaten in the heats and so, after a run off which put Faro's car third, Ferrari took on Kulmayer in the Grand Final, with the red car winning in a very close finish.

The Ferrari team came with two cars and a spare. These were beautiful machines, the chassis being designed using CAD-CAM technology and featuring carbon composite fins and heavy metal ballast. Kulmayer and Faro are 10-year-olds who produced their cars at home with ballast made from coins and fishing weights.

The F1 men arrived very confident and left victorious but understanding that they had a lot to learn about Pinewood Derby racing.

A great time was had by all and we can only hope that all the teams will compete next year to see if they can beat the Boy Scouts who may be the automotive designers of tomorrow.

The Minardi cars won the prize for the slowest cars with Paul Stoddart being awarded a board game designed to teach kids how to be F1 team owners.