JUNE 9, 2005
Up and coming in North America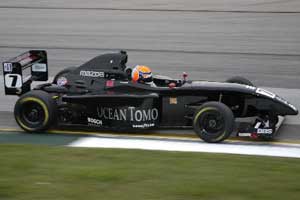 While the major open wheel categories in the United States remain fractionalized, the path to the top classes seems to have become clearer. In the first three races of the 2005 Star Mazda series no less than forty cars have filled the grid and over sixty cars are expected for the support race at the Canadian Grand Prix this weekend. The series consists of 11 races supporting the ALMS, IRL and Formula 1 series in both the United States and Canada

The Star Mazda Series, now in its second year with its new chassis, has attracted drivers and teams from throughout the Americas. With the spec series regulations strictly enforced and the proliferation of set-up information, the series is providing a clear indication of driving talent.

The series has also received the endorsement of Michael Andretti and Bobby Rahal as their sons Marco and Graham have joined the series. Rahal finished with a strong third place in the Sebring opener.

Brazilian Raphael Matos has staked his claim to the 2005 title by winning all three rounds so far - also taking two poles. Matos will not have it easy, however, as the eleven race series will no doubt continue to attract not only the attention of future champions but team owners as well.

Matos currently leads the championship with Scott Jenkins in second, Robbie Pecorari in third and Graham Rahal in fourth. Marco Andretti is currently seventh in the points.

Supporting the Canadian Grand Prix this weekend will give the drivers a chance to showcase their talent in front of the Formula One paddock.