MAY 12, 2005
D Day for JYS at BRDC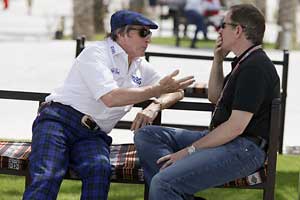 The members of the British Racing Drivers' Club meet today at Silverstone to vote on a decision which looks set to do the club serious damage no matter what happens. The club will decide whether Sir Jackie Stewart will remain as president or be removed from that position and from the board of directors. Stewart and his detractors have been lobbying intensely in recent days and the talk has been of resignations on one side or the other whatever happens. The bitter fight began in February when the board voted by a narrow margin to get rid of the office of chairman because of a dispute over a deal for the British Grand Prix which chairman Ray Bellm had negotiated with Bernie Ecclestone. This was criticised by Stewart. When the club issued a statement saying that Bellm had "stepped down", the former chairman roared in response, saying that he been "removed" and challenged the corporate governance of the manoeuvre. Stewart was quoted as saying that a lot of companies are headed by a chairman but that "the BRDC is different - the president leads the company".

Bellm defended the F1 contract he agreed as being "the best - and possibly only - deal available to us".

In recent days Bellm has told reporters that the battle is not personal.

"We simply believe that the board should be run by the chairman, not the president," he said.

There is no doubt, however, that Bellm was not happy with the vote to remove him.

Stewart views the battle as a personal attack.

"My integrity and credibility are being questioned," he argues.

The club must now sort out the issues involved and vote. There are clear questions of corporate governance and obvious personal issues as well and it seems that whatever the result there is going to be bitterness. Stewart's allies are threatening to leave the club if he loses and a Stewart victory will not do anything to remove the bad feeling that obviously exists in the membership. It seems impossible to consider the option of restoring the structure as it was before the battle began which means that the only other option is to wipe the slate clean and start again with the old structure and new people, although even that will be seen by some as a Stewart defeat.

In short, it is a right mess.