APRIL 12, 2005
From Russia with dosh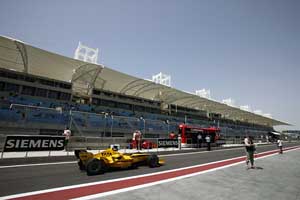 The Midland F1 organization has not exactly been pouring money into Jordan Grand Prix in recent weeks and this has been rather confusing for observers who believed that the Russians would invest heavily in an effort to build the team up. It is hard to understand why team boss Alex Shnaider is not attending more events and not increasing investment. Standing still in F1 is going backwards and now is the time that the team needs to be building up its organization in preparation for 2006. The fact that Dallara is building the 2006 chassis in Italy may be one of the reasons for the apparent lack of activity at Jordan, although we hear that in an effort to keep some of the technical staff at Silverstone, Shnaider has decided that the 2006 gearbox will be designed and built in England.

Although there is still no official confirmation there are still rumours that a Ferrari engine deal is on the cards. If the team wants to be taken seriously in F1 it needs a decision within a month so that work can push ahead on the design of the 2006 car. Dallara can do as much work as it likes in preparation for the new season but until it knows for certain what engine will be used, the team cannot hope to be in a position to get good results in 2006 as modern cars are all about the careful integration of the engine and the chassis.

The latest word is that the Dallaras will be run in the red, blue and white of the Russian Federation, as Shnaider seems to be keen to have the programme closely associated with Russia.