APRIL 12, 2005
Schumacher plans Imola comeback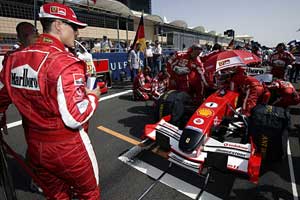 Michael Schumacher goes to the San Marino Grand Prix next week with two World Championship points on the board after three races. The World Championship leader Fernando Alonso has 26 points and seemed entirely unflustered under pressure from Schumacher in the opening laps in Bahrain. But then Schumacher retired with an hydraulic pump failure and so we never discussed the fuel load he was carrying nor the wear-rate of his Bridgestone tyres. What we do know is that Rubens Barrichello had trouble making the distance on his tyres but his car was not well set-up and ran with a heavy fuel load early on in an effort to overcome the disadvantage of a lowly grid position.

In Imola the temperatures will be very different to those seen in Malaysia and Bahrain and probably closer to the temperatures of Melbourne. Whether this will be enough to change the balance of power in F1 at the moment is another question as in Australia Renault was dominant but Ferrari was using the old F2004M. What is clear is that some of the cars work better in lower temperatures than others as their aerodynamics make the cars heat the tyres to the right operating temperature, while others cannot get the tyres up to temperature. This is what happened to Toyota in Australia although the team was right on the pace in Malaysia and Bahrain.

What will be interesting to see this year at Imola is the size of the crowd as the race has suffered small crowds in recent years despite Michael's successes.