APRIL 12, 2005
Montoya, Wurz or de la Rosa?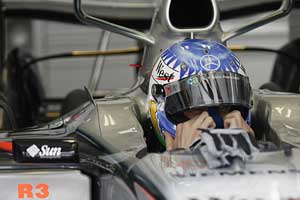 McLaren knows at least one thing about its driver line-up in Imola. Unless something untoward happens Kimi Raikkonen will be in one of the cars. Juan Pablo Montoya should be in the second (although he would no doubt consider it to be the first) but there is no firm word as yet as to whether or not the Colombian will be in a position to return because of his shoulder injuries suffered "while playing tennis" before the Bahrain Grand Prix. The Imola weekend will be four weeks after the accident and while the team hopes to have Montoya back, that will depend on medical matters.

If Montoya is not fit the team should, in theory at least, put Alexander Wurz in the second car. The Austrian is the official third driver at McLaren and has been since 2001. He missed out on a ride in Bahrain because he does not fit easily in the MP4-20 although modifications have since been made to enable Alexander to make long runs in the car. In testing last week in Barcelona he completed 65 laps in a new car and he is expected to add more mileage in an MP4-20 this week in testing.

In the testing last week the team's other test driver Pedro de la Rosa drove only the MP4-19B and it seems that he may now slip back into a testing role despite a strong performance in Bahrain, which put him in the spotlight and confirmed the pace of the MP4-20.