APRIL 7, 2005
An unhappy Jacques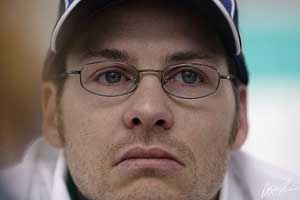 Jacques Villeneuve's relationship with Sauber is obviously getting rather strained. After testing on Thursday Villeneuve issued the following statement.

"It was exciting to finally get testing as we had been wanting to work on the car set-up and experiment some new ideas since the Melbourne race. Having had poor winter testing and no testing since the start of the season, Barcelona was an important test for us. Out of the three days planned, I was supposed to drive the first two, allowing us a fair amount of time as there also was a lot a team specific tests to be done on the car. Unfortunately, my engineer and myself did not manage do get through our set-up program and development of new ideas as I suffered a brake failure in the first morning run. The brake pedal went all the way down without actually having the wheels brake - a very rare occurrence but very dangerous. We took all the necessary time to check everything before going out again, losing a valuable half day on the track.

"At this point, with the few hours remaining we judged the "team specific work" a priority (even though we did not have the right set-up or car balance at the time) and we would use the 2nd day to concentrate on speed and set-up related work. We also decided to spend the rest of the day on old tyres, saving the new ones for day two of our test.

"The team then decided at the end of the day (yesterday) to change the testing plan: I was told that it has been predicted bad weather and a lot of rain on Friday, so the team changed the running schedule to allow Felipe to drive on the dry today. Therefore, we did not get the chance to focus on all the set-up work needed in preparation for Imola. It's a shame as new tyres, different fuel loads and a more rubbered track on the second day of the test would have been faster and closer conditions to what the Barcelona race week-end will be.

"I am sure this situation will fire on a new set of rumours but we are used to them and it certainly won't affect our work. At this time we are trying our hardest to get the car on the pace which has been a disappointment to us all so far.

"Sadly, Imola will be a continuation of the first three races instead of getting the step-up we were expecting after a productive test. Another disappointment adding up to the one following Bahrain last weekend where with Gian-Paolo, my engineer, and I started to understand the car better. But hopefully the next test in Fioriano will enable us to concentrate on our work."