APRIL 6, 2005
GP2 sorts out numbering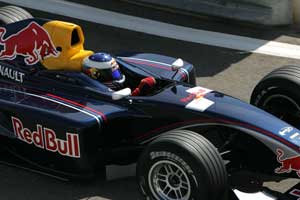 The GP2 series held its qualifying sessions for the allocation of its numbering at Paul Ricard today and the result was that America's Scott Speed won iSport International the top two numbers with a best lap of 1m19.414s. This was two-tenths of a second faster than Nelson Piquet Jr., who won numbers 3 and 4 for Hitech Piquet Sports. Ernesto Viso was third quickest overall and so his team BCN Competicion will run with numbers 5 and 6 and Giorgio Pantano (Super Nova) gave his team 7 and 8.

The remaining number allocation is as follows: ART Grand Prix, 9 and 10; DPR, 11 and 12; DAMS, 14 and 15; Coloni, 16 and 17; Racing Engineering, 18 and 19; Campos Racing, 20 and 21; Arden International, 22 and 23; and Durango, 24 and 25.

The big surprise was the poor performance of Arden. This was caused by Nicolas Lapierre spinning off in the first session and Heikki Kovalainen having to scramble to the 11th fastest time.