APRIL 6, 2005
BAR confirms de Ferran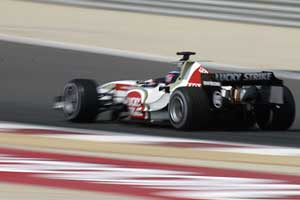 Lucky Strike BAR Honda has confirmed that Gil de Ferran is to join the team in the newly created role of Sporting Director, responsible for the BAR Honda team at events. This will help Nick Fry, Geoff Willis and Otmar Szafnauer to do all that is necessary with a modern Formula 1 team.

De Ferran raced between 1982 and 2003 but never had a chance in Formula 1, despite winning the British Formula 3 title and Formula 3000 races. In the end he went to America and enjoyed a career which resulted in CART titles in 2000 and 2001 and victory in the Indianapolis 500 in 2003. Since then de Ferran has worked as a commentator for ABC and ESPN in the United States.

De Ferran starts on Monday at Brackley and will be on the team's board of management alongside Fry, Willis, Shuhei Nakamoto, Yasuhiro Wada, Caroline McGrory (the team's legal counsel) and Nigel Kerr (finance).

"We knew there was a piece of the jigsaw still missing," said Fry, "we wanted someone with hands-on experience of what it takes to win in single-seater racing at the highest level. The time is right for us to allow Geoff Willis to focus on technical leadership and doing what he does best - designing and developing the race car - without the distractions of running the car trackside. Equally, my focus should be harnessing the power of our enhanced relationship with Honda and providing overall company leadership. What we know Gil can do is to get the best out of the racing team, the race engineers and the race and test drivers by enhancing their teamwork and motivation, using his experience to help get the most from the car on-event and developing race-winning strategies."

The conversations with de Ferran have been going on since Christmas and we understand that in the middle of it all, counselling both sides, was Sir Jackie Stewart who ran de Ferran early in his career and had strong links with Fry from their days with the Ford Motor Company.