APRIL 3, 2005
Race incidents from Bahrain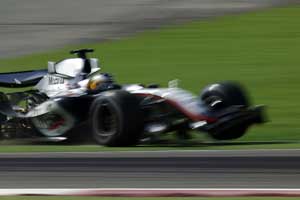 Rubens Barrichello is forced to start from the back of the grid after an engine was changed following his qualifying lap. As the field set off on the final parade lap Christian Klien was left behind with an electrical problem and never took the start.

* Lap 1: At the start Fernando Alonso took the lead while Jarno Trulli had a lunge around the outside of Michael Schumacher but was squeezed out by the World Champion. Behind them Mark Webber was fourth having moved ahead of Nick Heidfeld with Ralf Schumacher holding on to sixth place. Behind them Kimi Raikkonen had a good first lap and jumped up to seventh ahead of Giancarlo Fisichella, Pedro de la Rosa and Jenson Button. The action is lively in the midfield while at the back Christijan Albers runs into the rear of David Coulthard. Albers rejoins at the tail of the field. Further around the lap Coulthard was hit by Rubens Barrichello but was able to continue without a problem.

* Lap 2: Alonso sets the fastest lap and pulls out a gap of 0.6secs over Michael. Trulli is a second behind the pair while Webber and Heidfeld are unable to keep up the same pace. Heidfeld comes under pressure from Ralf Schumacher. The fighting in the midfield is spectacular with Takuma Sato coming out in front of de la Rosa, a charging Rubens Barrichello, Button. They are followed by Felipe Massa and Jacques Villeneuve. Narain Karthikeyan is next ahead of David Coulthard. Fisichella's Renault begins smoking.

* Lap 3: As Alonso edges further away from Schumacher, Fisichella heads for pitlane for a check. He rejoins for one more exploratory lap and then retires. Karthikeyan also drops out, pulling off and stopping out on the circuit.

* Lap 5: Alonso has moved a second ahead of Schumacher with Trulli holding station a second and a half behind the Ferrari. There is then a four second gap back to Webber.

* Lap 6: Michael Schumacher fights back and closes to 0.8secs behind Alonso. Further back Ralf Schumacher closes up and begins to challenge Heidfeld for fifth place.

* Lap 9: Ralf and Heidfeld are battling for position but Nick overshoots and Ralf is ahead and quickly pulls away and begins the chase to catch Webber.

* Lap 12: Michael Schumacher has been pressuring Alonso for several laps but he goes off suddenly and slows down immediately afterwards and then goes into the pits to retire. It is his first mechanical retirement in 58 races. This puts Trulli up to second and Webber to third.

* Lap 14: Alonso sets another fastest lap and increases his lead to 3.2secs. Webber is 10secs behind the two leaders and has Ralf Schumacher looking for a way to get through. In the midfield Sato continues to hold up de la Rosa, Barrichello and Button.

* Lap 17: The first man to pit is Patrick Friesacher's Minardi.

* Lap 18: Ralf Schumacher is the first frontrunner to stop and as a result he drops from fourth place to 12th.

* Lap 20: Alonso pits and so Trulli moves into the lead with Webber second. Fernando rejoins in third place ahead of Heidfeld, who is now under pressure from Raikkonen.

* Lap 21: Trulli and Webber both stop and so Alonso goes back into the lead as the midfield battles overheat and de la Rosa runs wide and drops behind Barrichello and Button. Further back Monteiro pits for the first time.

* Lap 22: Alonso leads Heidfeld and Raikkonen by just over a second. Trulli rejoins in fourth place ahead of Sato, Barrichello, Button and de la Rosa. Webber is 10th. Massa goes into the pits. And further back Albers also stops.

* Lap 23: Heidfeld stops and drops from second to ninth. De la Rosa also stops and falls from eighth place to 12th.

* Lap 24: Raikkonen pits and so Trulli is second again with Sato third, Barrichello fourth. Button pits and drops from sixth to 11th. Ralf Schumacher has an off avoiding a Minardi.

* Lap 25: The pit stops continue with Sato and Barrichello coming into the pits. Jacques Villeneuve, who has moved briefly to sixth place, pits and falls back to 12th.

* Lap 26: Coulthard is the last man to pit for the first time. The Red Bull driver falls from sixth to 12th. Nick Heidfeld disappears with an engine failure.

* Lap 27: Takuma Sato spins off. He is clearly in trouble with brakes. He drops back through the field and pits to retire.

* Lap 28: The order is now settling down with Alonso seven seconds ahead of Trulli. There is then a 20 second gap back to Webber, who has Raikkonen closing in on him again. Behind them is Ralf Schumacher and Barrichello. Button is seventh with da la Rosa right behind him. There is then a gap back to Massa and a gap behind him to Villeneuve. The last man unlapped is Coulthard.

* Lap 33: Alonso has increased his lead to 10secs. Further back de la Rosa is finally able to pass Button for seventh position.

* Lap 34: Webber has a big spin as he tries to hold off Raikkonen. He loses 10secs and rejoins behind Kimi and Ralf Schumacher in fifth place.

* Lap 36: Raikkonen goes off and loses four seconds but he is able to stay ahead of Ralf Schumacher. At the back Friesacher pits for the second time.

* Lap 38: De la Rosa challenges Barrichello for sixth place and gets through but then overshoots and Rubens retakes the place. At the back Albers pits again.

* Lap 39: Alonso sets another fastest lap as he begins to prepare for his second stop. At the back Monteiro has his second stop.

* Lap 41: Alonso pits and is followed into the pits by Ralf Schumacher. Trulli goes into the lead again. Behind then de la Rosa passes Barrichello.

* Lap 42: Trulli and Webber head for the pits. Alonso goes back into the lead with Jarno second. Webber falls from fourth place to ninth.

* Lap 43: Third-placed Raikkonen stops and falls back to fourth behind de la Rosa. The Spaniard sets the fastest lap of the race. Further back Massa stops again.

* Lap 44: De la Rosa comes into the pits and rejoins behind Webber. As this is happening Button passes Barrichello for fifth place. Behind them Villeneuve pits.

* Lap 45: Ralf Schumacher goes off again but does not lose a place. Further back Coulthard has his second stop.

* Lap 46: Button and Barrichello both pit. This puts Ralf up to fourth with Webber fifth and de la Rosa behind him. Barrichello rejoins in seventh ahead of Massa. Button has problems with a transmission problem and the team has trouble getting the car started. After several attempts the teams drops the car from the jacks with the wheels going and Button sets off but before he leaves the pitlane the engine dies and he retires.

* Lap 47: The order is now sorted with Alonso 12 secs ahead of Trulli. There is then a big gap back to Raikkonen. Ralf Schumacher is fourth with Webber and de la Rosa beginning to fight for fifth place. Behind them Barrichello is trying to keep ahead of a charging Massa.

* Lap 51: Massa gets ahead of Barrichello to take seventh place.

* Lap 54: Coulthard runs into the back of Villeneuve and punts the Canadian out of the race. He pits and retires.

* Lap 55: After several laps of highly-entertaining action between the defending Webber and a charging de la Rosa, the obviously-faster Spaniard finally manages to outfox the Australian to take fifth.

* Lap 57: Alonso wins his second consecutive victory to extend his lead in the World Championship. Trulli is second again with Raikkonen third and Ralf Schumacher fourth. De la Rosa comes home an impressive fifth with Webber sixth. A lap behind is Massa in seventh. On the last lap Coulthard catches and overtakes Barrichello to take the final point for Red Bull.