MARCH 10, 2005
The mystery of Jacques Villeneuve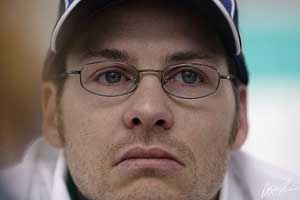 Jacques Villeneuve has always been lucky in his career and his performance in Australia was hidden by all the hullaballoo about Giancarlo Fisichella's victory and the good performance of Red Bull Racing. Few paid much attention to the fact that Villeneuve's performance was rather less than startling. At the end of last season Villeneuve was unimpressive in his F1 comeback for Renault. He brushed this off saying that he needed more time to prepare himself. Jacques got the winter to prepare himself with Sauber and in Australia he did well in qualifying, fortune to be running at a time in the session when he was able to set a good time before the rains came and so ended up fourth on the grid. It was a great start to the year. But the race was another story. Villeneuve finished 13th and the team was less than impressed, although no-one was complaining on the record.

One can forgive a problem on the first lap of a race. These things happen. But what Sauber appears to struggling with at the moment is the pace of Jacques after that. Felipe Massa, at the back of the grid and starting with a heavy load of fuel, running only one stop, managed a best time of 1m26.893s on his 55th lap of the race. Jacques Villeneuve's best lap, set on lap 54, was 1m27.745s, eight-tenths of a second slower than Massa, despite the fact that Villeneuve was running a two-stop strategy. This performance begs a number of questions because in theory at least Massa's tyres should have been in a lot worse shape than those of Villeneuve when they got into the final laps of the race. Instead Massa was considerably quicker and had gone from the back of the grid to 10th place, while Villeneuve had gone from fourth to 13th. Five of those positions can be blamed on the first lap but the rest - another four - were due to Villeneuve's lack of pace.

Peter Sauber may not be saying much but he is obviously disappointed.

"I'm reluctant to make a judgment," he said. "I really can't explain the difference, which is a big one at that. It's actually bigger than it seems. For the start, and after the first pit stop, Felipe Massa was driving with a heavy fuel load - in contrast to all the other drivers, who made two pit stops, Massa was driving with a one-stop strategy."