MARCH 6, 2005
Race Incidents from Melbourne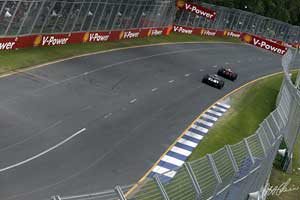 As the grid lines up for the start Kimi Raikkonen's McLaren stalls and the start is aborted, using the new start abort system. The cars go off on a second parade lap and the race distance is reduced to 57 laps. This means that Takuma Sato and Felipe Massa are on the back of the grid rather than in the pitlane.

* Lap 1: At the start Fisichella gets away well and leads into the first corner. Jarno Trulli stays second but Mark Webber is forced back by an opportunist move from David Coulthard. Nick Heidfeld squeezes ahead of Christian Klien, while Jacques Villeneuve drops behind Juan Pablo Montoya and Rubens Barrichello. At the end of the lap Fisichella is 1.4secs ahead Trulli.

* Lap 6: Fisichella sets his sixth consecutive fastest lap but his lead is still only 1.9secs. The gap behind Trulli is out to 4.5secs and it is clear that Coulthard is holding up Webber. The order remains unchanged back through the field.

* Lap 7: A frustrated Fernando Alonso tries to pass Jacques Villeneuve for ninth position. The move works but Villeneuve takes the position back immediately.

* Lap 9: Alonso runs wide and may have lost some aerodynamic parts.

* Lap 15: There is a worrying moment for David Coulthard when he comes up behind a Minardi and has to brake heavily. The two cars make contact. At the end of the lap Patrick Friesacher pits.

* Lap 17: The order is unchanged with Fisichella extending his lead to 4.8secs. Trulli is 4.7secs clear of Coulthard and Webber, who remain tied together. Further back Alonso finally manages to pass Villeneuve for ninth place. At the back Christijan Albers pits and retires his Minardi.

* Lap 18: Trulli and Heidfeld are the first men to pit and so Coulthard moves to second with Webber still behind him. At the back of the field Tiago Monteiro has his first stop.

* Lap 19: Ralf Schumacher pits and falls from 12th place to 16th.

* Lap 20: Webber and Christian Klien pit, leaving Montoya in third and Barrichello fourth. Also stopping is Takuma Sato, who had been running in 15th.

* Lap 21: Second-placed Coulthard stops and so Montoya is elevated to second with Barrichello third and Alonso fourth. Fifth place is Webber who is ahead of Trulli. Button pits from seventh and falls back to 15th. At the back Ralf Schumachers tops again, suggesting that there may have been a refueling problem. He rejoins a lap down.

* Lap 22: Villeneuve stops from eighth place, liberating the cars behind him. Felipe Massa makes a mistake further back and is overtaken by Michael Schumacher and Kimi Raikkonen, neither of whom has made any great impression in the race.

* Lap 23: Fisichella and Montoya both pit and so Barrichello leads. Fisichella rejoins ahead of Alonso and then come Coulthard and Webber, who remain nose-to-tail.

* Lap 24: Alonso sets the fastest lap of the race.

* Lap 25: Barrichello and Alonso both pit and so the order reverts to Fisichella, Coulthard and Webber. Barrichello is fourth with Montoya fifth and Trulli sixth. Alonso is next up ahead of Klien and Heidfeld. Raikkonen pits.

* Lap 26: Michael Schumacher pits and drops behind Nick Heidfeld.

* Lap 27: Tenth-placed Massa stops and drops back but it looks like he may be going for a one stop strategy.

* Lap 30: The order is set at the front but Alonso overtakes Trulli for sixth place.

* Lap 36: Trulli stops for the second time and falls back from seventh to 11th. At the back Monteiro spins and pits.

* Lap 39: Third-placed Webber stops, hoping to get some clear track to get ahead of Coulthard. Also stopping is Raikkonen, who has some damage to one of his bargeboards after an offtrack moment. Villeneuve stops for a second time and falls from 12th to 14th.

* Lap 40: Button passes Trulli for 11th. Klien, Heidfeld, Sato and Ralf Schumacher all stop.

* Lap 41: Sato has his second pit stop but the BARs are not on the pace.

* Lap 42: Fisichella, Coulthard, Montoya and Michael Schumacher all stop. This leaves Barrichello in the lead ahead of Alonso and Fisichella. There is then a gap back to Coulthard and Webber, with Montoya behind them.

* Lap 43: Barrichello stops and rejoins third ahead of both Coulthard and Webber. As this is happening Michael Schumacher and Heidfeld collide. Both retire from the race as a result, although Michael is able to drive to the pits.

* Lap 45: Alonso pits but has gone fast enough to rejoin in third place ahead of Coulthard and Webber.

* Lap 49: Ralf Schumacher overtakes Villeneuve to take 13th.

* Lap 54: Sato runs into trouble and is overtaken by Ralf Schumacher for 12th place.

* Lap 56: Sato pits.

* Lap 57: Fisichella wins a fine victory ahead of Barrichello and Alonso. Coulthard and Webber end the race as they began, nose-to-tail. Montoya is sixth with Klien seventh and Raikkonen eighth. Trulli finishes ninth ahead of the one-stopper Massa. Button is 11th but pits on the last lap. A lap down Ralf Schumacher is 12th with Villeneuve 13th. Karthikeyan is two laps down in 15th place, the best of the rookies.