MARCH 5, 2005
Australia reacts to Mosley statement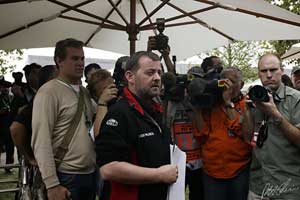 The FIA's press release about motor racing in Australia went down like a lead balloon in Melbourne on Saturday. The international automobile federation issued a statement following Paul Stoddart's victory in a local court which said that "if Australian laws and procedures do indeed allow a judge to act in this way, it will be for the World Motor Sport Council to decide if a World Championship motor sport event of any kind can ever again be held in Australia."

After a sharp intake of breath, Australia responded.

"The issues raised by the FIA in today's statement clearly have implications for many other countries which host rounds of the FIA Formula 1 World Championship," said the Australian Grand Prix Corporation in a press release. The statement added that Australia's FIA representative John Large will raise the issue when the World Council meets later this month.

The Confederation of Australian Motorsport came out in support of the FIA but Paul Stoddart reacted by saying that he felt "compelled to respond to the comments made with truth rather than fiction" and said that the FIA threatened to cancel the Australian Grand Prix if Stoddart did not withdraw his action. Stoddart pointed out that he had stated at the time his "total disgust" at the threat but agreed to do withdraw the action "in the interest of the Australian Grand Prix" and argued that "the author of this FIA press release is misinformed, or has scant regard for the truth" and went on to call the statement "an ill-judged, ill-timed document" which Stoddart said he felt was "created to disrupt and discredit the Minardi F1 team, the Australian Grand Prix and me".

Stoddart concluded with a similar comment to that of the Grand Prix Corporation.

"The Australian judicial system is similar in many ways to those of the world's other major democracies and it cannot give comfort to the relevant motorsport bodies in those countries when the FIA President issues statements such as this".