DECEMBER 20, 2004
Much ado about Heidfeld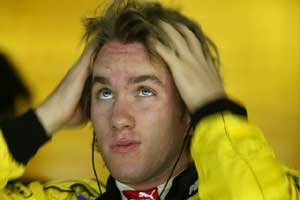 There as been a brief flurry of activity in the German media today with the suggestion being that Nick Heidfeld has signed to be the team's second driver in 2005. This is not true. The team says that it wants to continue to evaluate the two drivers vying to be Mark Webber's team mate: Antonio Pizzonia and Nick Heidfeld. There may be some confusion over the fact that Heidfeld will be joining Mark Webber at the team's "launch" in Bahrain on January 6 but what the German press presumably does not know is that Pizzonia will be there too. The launch is actually just an opportunity for the team to run cars and drivers in the livery which will be used next year and so the fact that the two contenders will be present means that footage of both will be "in the can". It is probably that the decision about drivers will be taken at the end of January when the team has done more testing. Our sources say that no decision has been made but that whatever happens both men will be included in the driver line-up with one being the second driver and the other doing the testing work and standing in for the regular drivers if there is a problem.

There is a big push going on Heidfeld down Munich way but it must also be noted that over in Brazil there have been questions asked about Petrobras sponsorship of Williams if there is no Brazilian involved. The Brazilian national oil company is booming at the moment but the government of President Luiz Inacio Lula da Silvan is rather more nationalistic than some of its predecessors and the word is that it wants to get more value for money out of F1.

The team says that in the end the deal will go to the driver who does the best job not the one with the best connections.