DECEMBER 9, 2004
How the British GP was saved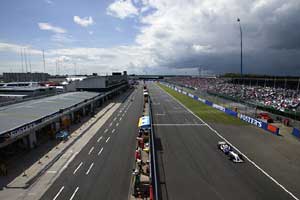 The British Grand Prix has been confirmed with a five-year deal between the British Racing Drivers' Club - owner of the Silverstone circuit - and F1 chief Bernie Ecclestone. The deal is a compromise between the two parties which will involve the teams making less money but will safeguard an important race. It does however mean that the F1 World Championship will go to 19 races in 2005 - and four of them will be within five weeks in July.

The actual date will be confirmed tomorrow by the FIA World Council but it will be July 10.

It is believed that as part of the deal the British government will give the race tax breaks.

"After long drawn out discussions we have reached a satisfactory conclusion," the BRDC said in a statement. Our agreement will secure the Grand Prix at Silverstone for the next 5 years, will pose no serious threat to the finances of the BRDC and its responsibilities to its members and will be a boost to the local economies around Silverstone, will provide a sound foundation for the BRDC to work with the government agency East Midland Development Agency and the private sector to develop Silverstone into a centre of excellence for British motorsport that will be the envy of the world, and will help to secure the continuing pre-eminence of the British motorsport industry in the United Kingdom. There has been much public debate on the future of the British Grand Prix. We hope that this agreement heralds a more stable and secure future for the race and consequently for our industry and sport in the United Kingdom."