DECEMBER 8, 2004
Red Bull playing hard ball at A1 Ring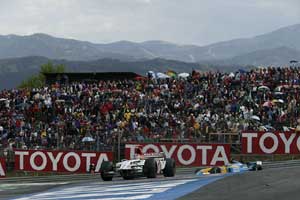 Red Bull Racing has dropped plans to reconstruct Austria's A1-Ring because of environmental problems. An Austrian government environmental panel on Monday ruled that objections raised by a local citizens' group were valid and that the track would create noise and air pollution. Red Bull boss Dietrich Mateschitz says that he is cancelling the whole idea, despite the fact that many millions have already been sunk into the enterprise. He says that the idea came from the local government as part of a plan to create jobs in the region but if the region does not want to know he is not going to waste his money.

"We were asked to do something," he said. "This has now been rejected. We do not need a race track where no cars can race."

The plans had been given the go-ahead by the local government but have been blocked at national level.

It remains to be seen whether or not the project will actually be called off but Mateschitz is clearly in no mood to mess about with bureaucrats and environmentalists.