DECEMBER 6, 2004
Button embarrassed by British fans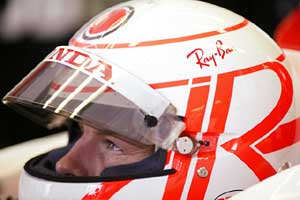 Jenson Button admitted that he was embarrassed to win an award as International Racing Driver of the Year from the readers of Autosport magazine. This is not surprising given that Button failed to win a single Grand Prix and Michael Schumacher, World Champion for a record seventh time, won 13 of the 18 Grands Prix and broke several records in the process.

"I feel a little bit embarrassed holding this up because Michael won so many races and destroyed us in the championship," Button said.

Schumacher lost out on the award in 2003 as well, the readers of the magazine concluding that Juan Pablo Montoya was a better choice.

Schumacher did not attend the event - which is hardly surprising.

Last week Michael was voted Driver of the Year by the Indianapolis Star newspaper, ahead of all the Indy Racing League, Champ Car and NASCAR drivers - evidence, if ever it were needed, that it was Michael's year.

Fortunately some of the other votes were more intelligent with Sebastien Loeb winning the International Rally Driver of the Year award and Citroen winning best rally car. AJ Allmendinger was named Rookie of the Year for his performances in Champ Car racing and Paul di Resta, a cousin of Dario Franchitti, won the McLaren Autosport BRDC award for the best young driver. Di Resta (18) finished third in the British Formula Renault series this year behind 21-year-old Mike Conway (who had the title won by August) and Westley Barber. Di Resta, who was driving for Manor Motorsport, won four races in his debut season.