DECEMBER 2, 2004
David Coulthard and Red Bull Racing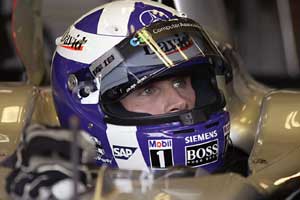 There are rumours today that suddenly David Coulthard is top of the list as a driver at Red Bull Racing. This makes a lot of sense given the experience and profile of the Scotsman but one has to be very careful about such rumours because over the years Red Bull has shown itself to be masterful at generating publicity without doing anything. For more than five years the company has been mentioned as a possible buyer of an F1 team and as a sponsor for various different teams and while there is always a lot of talking going on, there are rarely deals at the end of the day. However, while all the negotiating is reported, Red Bull manages to stay constantly in the limelight without actually making many public statements. The company, in fact, avoids any direct comment about its plans but clearly enjoys the coverage it receives.

Thus, it is best to wait and see what Red Bull will announce rather than speculating on whether the team will be Christian Klien and Vitantonio Liuzzi or David Coulthard and Nick Heidfeld.

There are also clear questions about who is making the decisions, and there are differences of opinion within the team. The old Jaguar Racing management and the Austrian drinks people are not always in agreement on what to do. Red Bull, you may recall, fell out with Peter Sauber over the question of driver selection. Sauber wanted a Finnish Formula Renault driver that no-one had ever heard of named Kimi Raikkonen while Red Bull supported the candidature of Enrique Bernoldi.

As a result of Sauber's decision to take Raikkonen, Red Bull sold its shares in the Swiss team.