DECEMBER 2, 2004
A1 launches Team Lebanon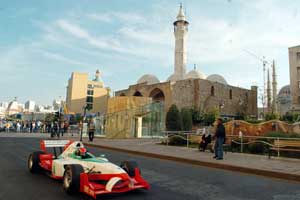 The A1 Grand Prix series has unveiled details of a new team from the Lebanon. Team Lebanon was unveiled by the country's president Emile Lahoud at the Le Royal Hotel, Beirut. The event was hosted by Nadhmi Auchi. His son Tameem will be the boss of the new team. The car will be run with the Lebanese flag as its livery and the famous Cedar of Lebanon on the sidepods.

Ironically, Auchi (67) is not Lebanese at all but rather from Iraq. He left Iraq in 1981. His brothers were killed by Saddam Hussein, although his connections in his home country allowed him to build a huge fortune, acting as an intermediary in commercial deals in the Middle East. His company - known as General Mediterranean Holdings is involved in a variety of different industries including industry, finance, construction, pharmaceuticals, power, tourism and entertainment. Le Royal Hotel is one of his many assets and he is currently building a new Hilton Hotel in downtown Beirut and is involved in various other reconstruction projects in the country.

A controversial figure, a year ago Auchi was fined $2.4m and given a 15-month suspended sentence by a French court for having received illegal commissions to ease the purchase an oil refinery for Elf in Spain. His General Mediterranean Holdings company is believed to have $2bn of assets and is listed as Britain's seventh richest man. He is one of the biggest private shareholders in the French bank BNP.

"We want the Lebanese people, both here and around the world, to be proud of the team that is bearing their national colours," said Tameem Auchi at the launch. "This levent is a clear demonstration that Team Lebanon is a serious player, one that will bring success to those involved."