NOVEMBER 23, 2004
Ferrari confirms Gene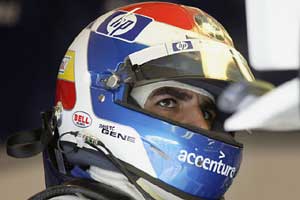 As we predicted yesterday, Ferrari has confirmed Marc Gene as its second test driver, sending a clear message to the other teams that it has no intention of getting involved in any testing bans, presumably working on the belief that if Ferrari holds out the other teams will crumble and testing will be left as it is. Gene becomes the fourth Ferrari driver alongside Michael Schumacher, Rubens Barrichello and Luca Badoer. He replaces Luciano Burti, who did only limited testing last year and was replaced on occasion by Andrea Bertolini, the Ferrari-Maserati official sports car test driver.

Gene comes to Ferrari with a sound knowledge of the way in which Williams, BMW and Michelin work but ti is not clear whether this is information which will be of much use to Ferrari.

Ferrari's attitude towards a reduction in testing appears to be as hardline as before with the company apparently willing to go into next season with an appreciable advantage over the opposition and apparently unconcerned that the result will be diluted in 2005 by the fact that everyone else will be testing less.