NOVEMBER 19, 2004
Honda moves in at BAR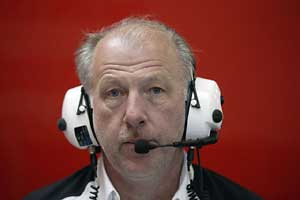 As we exclusively predicted earlier this week Honda has bought into British American Racing. David Richards will now stand down and Nick Fry will take over. For the next three months there will be a period of transition during which Richards will pull back from BAR and Fry will pull out of Prodrive. Honda is buying 45% of the team while BAT will retain the majority of the shares with 55%. But it may not be plain sailing as some of the old shareholders in the team look likely to cause trouble.

This will not be Richards's problem but will be something for BAT to sort out. Richards will have plenty to do running Prodrive, the commercial side of the World Rally Championship and the Subaru World Rally Team. In addition he is behind the new Aston Martin sports car operation.

Richards has done an impressive job in the two years he has been in charge at BAR. The team was knocked into shape with new people being put into key positions and after years of mediocre performance the team perked up and became a serious challenger, finishing second in the Constructors' World Championship. Richards says that the success of the team will ultimately reflect on Prodrive and if in the future he is in a position to be involved in a new team of his own - perhaps if costs come down dramatically - he will be free to do it.

"I suppose you could say that I am a victim of our success," said Richards. "We did things a bit quicker than anticipated."

The only other man in the team who will go back to Prodrive with Richards is commercial director Hugh Chambers, a Prodrive employee.