NOVEMBER 16, 2004
The return of Ligier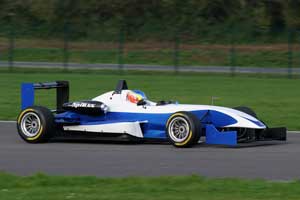 Automobiles Ligier has now launched its Ligier JS47 Formula 3 car. It is several months since Guy Ligier acquired a significant shareholding in Automobiles Martini and the result of that is the launch of the Automobiles Ligier, which is expected to be run in Formula 3 in 2005. The first shakedown tests of the car have been carried out by Alexandre Premat and Tristan Gommendy at Magny-Cours where the car was designed and built by a team led by Tico Martini and former F1 engineer Gilles Alegoet. The testing has now moved south to the Nogaro circuit.

"We've been working on this project for around 10 months," said Guy Ligier, the veteran former F1 team owner. "We have been focusing carefully on designing efficient aerodynamics, transmission and suspension. I wanted to build a fast, reliable racing car. It's always great to be involved in the birth of a new car. Taking the car from concept to creation is always special as is hearing that on track it behaves like our simulations predicted. To optimise the car we must now perform a long testing programme on track to learn more about the car's behaviour."

The JS47 is designed to take on Dallara in the F3 market.

There are two other new Formula 3 cars being built in France at the moment: one by Philippe Sinault's Signature Competition, which has been using ex-F1 engineer Paolo Catone as the designer and the other by Mygale.