NOVEMBER 15, 2004
Rubens wins Granja Viana 500 kart race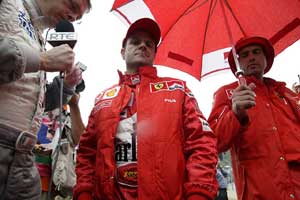 It was a star-studded podium for the annual Granja Viana 500 kart race in Brazil on Sunday with Rubens Barrichello, Tony Kanaan, Felipe Giaffone and Dan Wheldon winning the 10 and a half hour race by just 15secs from Gil de Ferran, Helio Castroneves, Rubem Carrapatoso and Osvaldo Negri. The third placed kart was that of last year's winners Christian Fittipaldi, Mario Haberfeld and Charlie Fonseca although they were seven laps behind the two frontrunning karts at the end of the event.

Juan Pablo Montoya had troubles with its engine and dropped back and when the team tried to fight back in the course of the race, Federico Montoya, Juan-Pablo's brother, crashed and bent an axle. The team eventually retired from the race.

It was the fifth win in the event for Barrichello and Kanaan.