NOVEMBER 5, 2004
Coulthard's campaign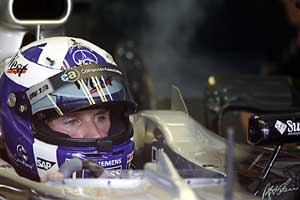 David Coulthard still wants to be a Grand Prix driver and is currently in the process of trying to sell his services to BMW Williams, which is vaguely looking around to see if there is a sensible alternative to Antonio Pizzonia for 2005. The team already has Mark Webber under contract and is expected to name Pizzonia as his team mate. BMW is thought to be keen on getting Nick Heidfeld into the drive while there are some who are pushing for the team to give Vitantonio Liuzzi another try, worrying that the team's initial assessment of the Italian after a test in 2002 was not correct. This would be a wise move.

Coulthard's arguments to the team do have some merit as experience counts for much in F1 these days but the 33-year-old Scotsman is going to have to do a very good selling job to open the door at the team where he started his F1 career 10 years ago.

Pizzonia remains the favourite for the second Williams seat.