NOVEMBER 3, 2004
Raikkonen's F3 team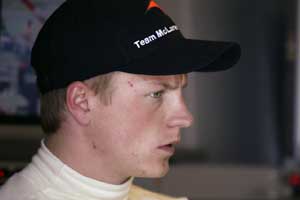 As we reported on Monday, Kimi Raikkonen is planning to set up his own Formula 3 team in league with his manager Steve Robertson, a former F3 race winner between 1989 and 1991. The plan is for Raikkonen Robertson Racing to run Mercedes-engined cars being fielded by Carlin Motorsport engineer Anthony Hyatt and will be based in Woking, Surrey.

Raikkonen did not race in Formula 3 himself, leaping straight from Formula Renault into F1 in 2001.

Robertson drove for Bowman Racing for three years, at a time when the team was being run by an aspiring team owner called Trevor Carlin. Robertson finished third in the 1990 British F3 title behind Mika Hakkinen and Mika Salo but was unable to make the jump to F1 and moved to America where he won the Indy Lights title with Tasman Motorsport in 1994.