OCTOBER 29, 2004
Our Nige as a team owner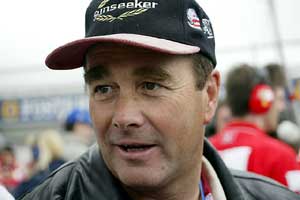 Racing champions have never been great team owners, with the notable exception of Sir Jack Brabham, but this does not ever seem to stop them trying. One rumour which we heard in Brazil was that Brand Synergy, the company which failed to impress the BRDC with its plans for the British Grand Prix, has now decided to make a bid for Jaguar Racing, which would see the team involving 1992 World Champion Nigel Mansell. Mansell tried his hand at team ownership previously with the Madgwick Motorsport Formula 3000 team in 1991 although the relationship ended after just one season, during which Mansell Madgwick Motorsport driver Paul Warwick, brother of F1 driver Derek Warwick, was killed in a MMM car in a 150mph accident at Oulton Park.

The Mansell bid is the latest in a series of potential deals but there are doubts that the Ford Motor Company is serious about selling the team and would prefer to see it close down to avoid any further damage to the Jaguar brand. The danger of this policy is that it would cost Ford more and would open the company to the risk of law suits from other signatories of the Concorde Agreement as Jaguar Racing was committed to continuing until the end of the contract. Ford argues that if the team closes down it is not liable for breach of contract but others involved argue that as Jaguar Racing is a 100% subsidiary of Jaguar Cars and Jaguar Cars is a 100% subsidiary of the Ford Motor Company then the firm must be considered liable. Such arguments will probably have to be sorted out in the law courts if the team does close it doors.

Ford's other problem is that a number of the contracts with expensive engineers run for several years into the future and they will all have to be paid off properly, which could result in a bill of as much as $100m as the team's budget has been heavily weighted towards having the right people.

There are still a few days in which a deal can be completed but the mood in the Jaguar camp is one of pessimism and bitterness towards Ford, which many if the team believe, has wasted all their efforts in recent years.

To underline the fears, news is leaking out that in August Ford president Nick Scheele shook hands on a deal for the team to be sold to Red Bull with Red Bull boss Dietrich Mateschitz over dinner in Vienna but then had to go back on the deal when it was thrown out by other management people in Detroit. It is also being reported that a deal with the Chinese government to run a team under the Team China Ford banner was also stopped by the executives in Dearborn.

With Toyota on the verge of a deal with Jordan, the only option for an engine deal for Jaguar is with Cosworth Racing and the F1 programme there will only go ahead if someone is willing to invest heavily in the business. This might be possible as the switch to V8 engines does offer some hope for commercial opportunities in F1.

Minardi has said it could always fall back on its outmoded engines from several years ago if it had to but Australian owner Paul Stoddart sounded optimistic in Brazil that he would not need to.