OCTOBER 26, 2004
Renault commits to F1 again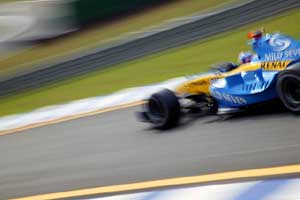 There has been much talk about Renault's involvement in F1 in recent days because of plans for a change of management which will almost certainly mean new philosophies and new structures.

"I recently met with Carlos Ghosn, the future CEO of Renault," said Renault F1 boss Patrick Faure. "His message was crystal clear: "Carry on!" I repeat once again that this company is committed to Formula 1 for the long term. As for the future of our relationship with Flavio Briatore, that too seems promising. Flavio has met every target we have set him thus far and if he achieves that again in 2005 - and there is no reason to think he won't - then we would be pleased to extend our collaboration into 2006."

This all sounds very rosy but the reality is probably rather different. The reason that there are so many rumours in F1 circles about Renault is that in China recently Briatore told the other F1 team bosses that the future of Renault was by no means secured.

Ghosn may well have told Faure to carry on but that does not mean that when his feet are under the biggest desk at Renault, he is not going to show Faure the route to the nearest retirement home, a rumour that has been circulating in automotive circles for many months. Briatore's future is thus not in the hands of Faure even if he would like to give that impression.

Renault did do a good job in 2004 and will probably be very competitive again in 2005. It will be interesting to see the team's financial results when they are published because the 2003 record reveals that the team made a substantial loss. The company's chassis budgets may only be around $90m but the engine bill is believed to be $150m and so an investment of $240m a year is going to need quite a lot of justifying when Ghosn, known as "Le Costcutter" arrives from Nissan. He may well want to see Renault stay in F1. He might want to rebadge the whole thing Nissan but more than anything else he will want to have value for money.