OCTOBER 24, 2004
Race incidents from Interlagos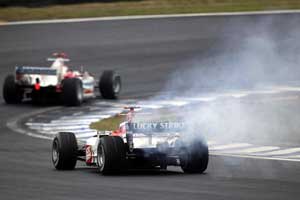 The track was damp at the start of the race but the rain had stopped falling and Fernando Alonso, David Coulthard and Jacques Villeneuve decided to start on normal grooved tyres. The rest of the field was on intermediates while Gianmaria Bruni started from the pitlane and at the end of the parade lap Zsolt Baumgartner joined him, deciding it was worth switching tyres early. As the grid lined up there was smoke from the back of Takuma Sato's BAR-Honda.

* Lap 1: At the start Rubens Barrichello went away in the lead with Kimi Raikkonen and Felipe Massa both getting ahead of Juan Pablo Montoya. Ralf Schumacher was also in trouble in the first corner, getting into a wobble while trying to make up places but managing to hold it together without losing a place. On the run down the hill Raikkonen was able to get ahead of Barrichello while behind them things were getting fairly physical as Massa tried to keep Montoya behind him. It ended up with Massa being passed by both Montoya and Button. Further around the lap the order changed again and Button came out in third place with Masssa behind him and Montoya fifth. Further back Giancarlo Fisichella was bumped into a spin and dropped back to 18th. The three men on grooved tyres were struggling with Alonso back from eighth on the grid to 15th; Coulthard dropping from 12th to 17th and Villeneuve going from 13th to 16th. At the end of the first lap Raikkonen was half a second clear of Barrichello with Button 1.7s behind, being chased by Massa, Montoya, Takuma Sato, Ralf Schumacher, Jarno Trulli, Christian Klien and Michael Schumacher up to 10th from 18th on the grid.

* Lap 2: Raikkonen increased his lead to 0.8s over Barrichello while Montoya scrambled his way ahead of both Massa and Button, the Brazilian also getting ahead of the BAR-Honda. Further back Alonso dropped from 15th to 17th, Villeneuve went off and lost two places and Coulthard also fell back.

* Lap 3: Barrichello challenged Raikkonen for the lead while Button had an engine problem and began to slow, falling behind Sato, Ralf and Trulli. Further back Michael Schumacher spun (possibly on Button's oil) and fell back from 10th to 13th. Fisichella began to recover and overtook Timo Glock for 14th place. Further back Alonso was also speeding up as the track dried and was able to pass Bruni for 16th.

* Lap 4: At the start of the lap Barrichello went ahead, while Williams called in Ralf Schumacher to get dry tyres. Button parked his BAR, while Mark Webber was able to pass Nick Heidfeld to grab ninth place. Alonso set the fastest lap of the race, a signal for everyone to head for the pits.

* Lap 5: Barrichello and Massa stayed out giving Brazil a 1-2 for a few moments. Raikkonen, Montoya, Sato, Trulli and Michael Schumacher all stopped. Montoya and Raikkonen came out side-by-side along the pitlane with the Finn on the inside. As a result Kimi took the line and went ahead but on the run down the hill Montoya had more momentum and took the lead at the end of the straight.

* Lap 6: Barrichello pitted and left Massa to lead the race. Klien and Webber both came in at the same time and the Australian had to wait while the team sent the Austrian on his way first. Also pitting were Ricardo Zonta, Glock and Baumgartner.

* Lap 7: Massa pitted and this meant that Alonso was in the lead, now taking advantage of his tyre choice. The Renault driver was eight seconds ahead of Montoya with Raikkonen third, Ralf fourth although he was under attack from Sato. Barrichello was sixth with Villeneuve (who had not stopped) behind him and Villeneuve in his wheeltracks. Heidfeld, Fisichella and Bruni all pitted.

* Lap 10: Alonso completed three consecutive fastest laps but the lead did not really change. In the midfield Massa was able to get ahead of Coulthard to take eighth but soon afterwards he lost out to DC and to Michael Schumacher.

* Lap 11: The race was beginning to settle down. In the midfield Zonta overtook Trulli for 11th place while further back Fisichella overtook Glock for 15th.

* Lap 14: Coulthard was the first of the grooved tyre trio to pit and he fell from eighth place to 15th.

* Lap 17: Heidfeld spun off.

* Lap 18: Alonso headed for pitlane and dropped back to sixth position.

* Lap 20: Villeneuve pitted and fell from seventh place to 14th. The order was thus established with everyone having completed one pit stop.

* Lap 22: Montoya was able to maintain his advantage over Raikkonen, while third-placed Ralf Schumacher was able to close in a little on the Finn. Further back Trulli retook ninth place from Zonta.

* Lap 23: Zonta pitted and fell back from 10th to 13th place.

* Lap 24: Disaster struck Jaguar. Webber tried to pass Klien for 11th place but the Austrian drove into his team mate, removing Webber's front wing and sending off the track into retirement. Klien pitted at the end of the lap. He fell back to 16th place.

* Lap 26: The second round of stops began with Ralf Schumacher heading for the pits. He re-emerged in seventh place.

* Lap 27: Sato and Button both pitted, allowing Alonso back up to third place with Michael Schumacher fourth and Ralf fifth.

* Lap 28: Montoya pitted and left Raikkonen in the lead. Michael Schumacher also stopped. Montoya rejoined in second place while Michael fell back to ninth. Trulli also stopped and dropped from ninth to 12th.

* Lap 29: Raikkonen pitted and so Montoya went back into the lead. Kimi rejoined second ahead of Alonso, who was under pressure from Ralf with Sato fifth under pressure from Barrichello. Behind them were the two Saubers with Masa head of Fisichella with Michael Schumacher, Villeneuve and Coulthard following. Once again the men who had started on grooved tyres were out of synch with the others.

* Lap 30: Klien overtook Glock to take 14th place.

* Lap 33: There was a little drizzle and Montoya made a mistake and lost more than two seconds of his lead. Further back Sato was overtaken for fifth by Barrichello. Massa headed for the pits for his second stop and dropped from seventh to 11th.

* Lap 34: Fisichella pitted and dropped back from seventh place to 11th.

* Lap 41: Coulthard was the first of the out of synch drivers to stop again. He fell from ninth to 12th.

* Lap 45: Eleventh-placed Trulli had his third pit stop and fell back to 13th.

* Lap 46: Villeneuve pitted and dropped from eighth to 10th.

* Lap 47: Alonso stopped and dropped from third to seventh.

* Lap 48: Williams called in Ralf but he emerged still behind Alonso.

* Lap 49: Barrichello pitted again and fell from third to fifth. Further back Zonta pitted for a third time and dropped behind Trulli.

* Lap 50: Montoya pitted for the last time, leaving Raikkonen in the lead. Michael Schumacher also stopped and fell back from fourth to seventh.

* Lap 51: Ralf Schumacher overtook Alonso but overshot and the Spaniaard got ahead again.

* Lap 53: Massa stopped again falling behind Fisichella.

* Lap 54: Sato stopped for the last time and dropped from third to fifth., in the middle of a big battle between Alonso and the Schumacher brothers. The Saubers switched places again as Fisichella completed his last pit stop. Massa was eighth and Fisichella ninth.

* Lap 55: Raikkonen had increased his lead to nearly 20secs but had to pit again and he rejoined just behind Montoya. There was then a big gap back to Barrichello and another gap back to the Alonso-Sato-Schumacher-Schumacher fight.

* Lap 69: The order was unchanged for 14 laps with Montoya and Raikkonen running closely together all the way. Ralf Schumacher managed to get ahead of Sato and grab fifth place.

* Lap 71: Montoya won his fourth victory for Williams in his last event with the team. His 2005 McLaren team mate Raikkonen was a second behind. Barrichello was third, Alonso fourth ahead of Ralf Schumacher, Sato, Michael Schumacher and the two Saubers. The rest were lapped.