OCTOBER 16, 2004
Villeneuve's faces tough test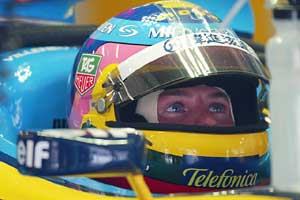 Jacques Villeneuve goes to Brazil with his Formula 1 future in question because of his poor performances in China and Japan. The French-Canadian has a contract with Sauber for the next two years but the lacklustre showings in recent weeks must be leading to questions down in Switzerland.

Villeneuve went testing last week in Jerez de la Frontera in the hope of getting a better understanding of the car, in which he has already completed two race distances.

"The aim for that session was to get to know the car better and explore different setups," said Villeneuve. "It was also to get some more time to help with my physical conditioning. We didn't do as many miles as we would have liked, but it was important to get more experience with the R24. Hopefully, it will enable me to run more competitively in my last race for the team in Brazil. I want to end my time at Renault with a good performance after two hard races and bring something back to the team. I definitely want to finish in the points."