OCTOBER 14, 2004
The future of Anthony Davidson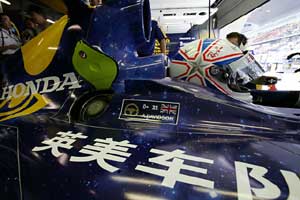 This is an important week in the life of BAR test driver Anthony Davidson as he waits to see what will happen at the Contract Recognition Board on Saturday in Milan. If Jenson Button goes to Williams next year, the chances are that Davidson will be snapped up by BAR to partner Takuma Sato. This is not 100% confirmed but the team certainly seems to be leaning in that direction although there are still the possibilities of David Coulthard or Vitantonio Liuzzi, both of them are risky choices but then Davidson too has little F1 racing experience.

Having said that if the team retains Button or signs a different driver, Davidson would appear to have a future elsewhere, as it is believed that BMW Williams are very keen on the young British driver as a third driver next year. If Button goes to BAR it is likely that Antonio Pizzonia will join Mark Webber (recreating the Jaguar Racing driver line-up of 2003) and Davidson would come in as the third man.

At the moment it is not clear whether Button will stay or go from BAR. Williams is being deliberately pessimistic but presumably has a strong case (or else would not have announced the signing in the first place) while BAR is being openly confident. As for Button, he seems to be looking at changing his management in the future with the latest suggestion being that the new management team might involve Jaguar Racing PR man Nav Siddhu, who worked with Jenson at Williams in 2000.