OCTOBER 13, 2004
The F1 calendar taken apart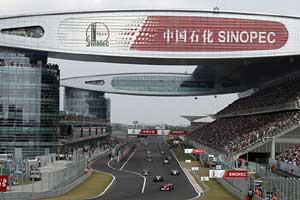 The FIA World Council has voted through a Formula 1 calendar for next year, but there are no guarantees that things will not change again. As expected Britain, France and San Marino are the races under threat with San Marino not being in compliance with its contract and the other two races subject to the finalization of contracts. There are however a number of surprises, not least the shifting of the French Grand Prix to April 17. This is not a very positive move for the event, which traditionally takes place in July. The big problem appears to be the date of the United States Grand Prix which needs to be either a week before or a week after the Canadian GP. The problem is that a week before Canada is June 5, and that is just seven days after the Indianapolis 500 which scheduled next year for May 29. It is not possible to get the Speedway ready in time for the Grand Prix because of the construction of grandstands and reconfiguring of the race track. This means that the Indianapolis race has to go to June 19 which leaves no room for the French GP because more time is needed to get the equipment back from the US in time for the British GP, if it happens. This allows Germany to move to the traditional British GP weekend and Hungary to move forward to the German GP date, all of which is to get Turkey into the calendar allowing for a three-week holiday. It is not clear why the Belgian GP is being moved to September 11 but this means that the Italian GP will now take place on September 4.

The other point of note is that China obviously wants the last race of the year and has been listed after Japan, the Brazilian GP thus being moved to the end of September. This is odd given that the switch of Brazil to end of the year was designed to ensure that the World Championship showdown would be seen on prime time TV in Europe.

The full list of provisional dates are as follows: March 6, Australia; March 20, Malaysia; April 3 Bahrain; April 17, France*; San Marino, April 24*; Spain, May 08; Monaco, May 22; Europe, TBA; Canada, June 12; United States, TBA; Great Britain, July 3; Germany, July 17; Hungary, July 31; Turkey, August 21; Italy, September 4; Belgium, September 11; Brazil, September 25; Japan, October 25; China, TBA.

The dates for the Grands Prix of Europe, USA and China will be confirmed no later than the meeting of the World Motor Sport Council on December 10, 2004.