OCTOBER 7, 2004
The F1 calendar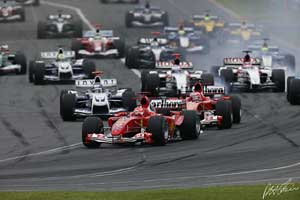 There is still some confusion as to the final Formula 1 calendar for next year with various different versions floating about at the moment. The two most likely versions of the calendar both include 19 races and it is believed that at least one (and perhaps three) of the events will eventually be dropped, depending on the negotiations now going on.

We believe that the following is the calendar which will probably be announced next week by the FIA with three of the races (San Marino, Britain and France) being listed provisionally:

March 6, Australia (Melbourne)

March 20, Malaysia (Sepang)

April 3, Bahrain

April 17, San Marino (Imola)

April 24, Europe (Nurburgring)

May 8, Spain (Barcelona)

May 22, Monaco

June 5, Canada (Montreal)

June 12, United States (Indianapolis)

June 26, France (Magny-Cours)

July 3, Britain (Silverstone)

July 17, Germany (Hockenheim)

July 31, Turkey (Istanbul)

August 21, Hungary (Budapest)

September 4, Belgium (Spa)

September 11, Italy (Monza)

September 25, China (Shanghai)

October 10, Japan (Suzuka)

October 23, Brazil (Sao Paulo)

There is believed to be some question as to the venues in Japan and Brazil with rumours suggesting that Mount Fuji could come in instead of Suzuka and that Rio de Janeiro might happen instead of Sao Paulo.