OCTOBER 4, 2004
Talk continues over British GP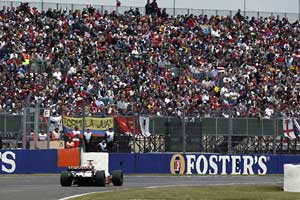 There has been a flurry of stories over the weekend about hopes of saving the British Grand Prix with Bernie Ecclestone trying to improve his position by explaining that he offered to split the difference between what he wants and what the BRDC wish to pay with the British government. Ecclestone says that the $5.3m gap between the two figures could be easily solved if he lowers his demand by $2.6m and the government comes up withe $2.6m. There is however no sign of that happening although the BRDC is now looking to find a way to raise the extra $2.6m. The question which no-one seems to be asking is whether the fees for the race are simply too high, particularly as almost all of the money raised in fees for holding the races goes directly to Ecclestone and his partners.

This point was made by Sir Jackie Stewart in a letter to one of Tony Blair's policy advisors at 10 Downing Street.

"What seems to have been missed is that there has been simply no money coming back into the sport from Mr. Ecclestone's large rights fees and commercial rights contracts," Stewart explained. "Unless a government, such as is the case with almost every other Grand Prix around the world, is supplying the finances to build exciting, glamorous and expensive facilities" it is virtually impossible for a race to survive financially. He also pointed out that race promoters can get no income from anything other than ticket sales as all the other ways of making money have to be signed over to the various companies involved in F1 before contracts can be signed.

Bernie Ecclestone says that his prices are not unreasonable.

There is an additional problem as Ecclestone would need to get all the teams to agree to take part in an 18th race and they are not going to do that unless they are paid for that.