SEPTEMBER 29, 2004
The answer to Formula 1's problems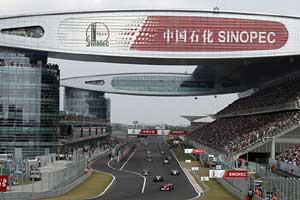 Even before the Ford Motor Company announced that it was stopping its Formula 1 activities, Ferrari boss Luca di Montezemolo launched a scathing attack on Bernie Ecclestone, complaining that Formula One Management and its related companies take too much money out of the sport. Ford made a similar comment but said that it did not detract from the fact that Ford itself was to blame for the demise of Jaguar Racing because it is unable to afford to compete at the current levels of spending. Those who hoped that the Ford announcement would shake the sport into seeing reason and force all those involved to find compromise, cut costs and agree on a fairer distribution of the income generated, have been appalled by what has happened since then.

Ecclestone opened fire on Ferrari, saying that the firm is "selfish" to block proposed changes to the regulations. He abused Ford for not being serious about F1 and cast doubt on the future of Minardi and Jordan. The two small teams responded angrily, saying that such outbursts serve only to undermine them. And when in China people began asking questions about Ford's decision, Renault F1 boss Flavio Briatore rounded on the media and said that it was "disgusting" that the press should draw attention to the problems. Briatore's attack on the media was entirely predictable but it is an affront to the media, to the fans that the media represent, and to the sport itself.

"I have never seen so many press people so depressed," said Jaguar Racing boss David Pitchforth a couple of days later, with unintended irony. "I keep having to cheer them up. They think the sport is destroying itself."

FIA President Max Mosley turned up in China but he sent out conflicting messages about the health of the sport.

"What I think is the most likely scenario is that someone will buy Jaguar; Minardi will keep going like they always have and Jordan will find a solution in one way or another," he said to one group of journalists. "I think that's most likely and then in 2006 I think we might see at least one and maybe two new teams."

But a day later, to a different group of journalists, he said he believed that another manufacturer will soon disappear.

On Friday afternoon Briatore told his fellow team bosses in a meeting that he is worried about the future of Renault in F1. Automobiles Renault gets a new management in March next year and decisions will then be made about the F1 project. Briatore himself admits that he is not going to be part of the team for much longer and it seems that he has built himself a new role as the head of an engine company, preparing 2.4-litre V8 engines for Max Mosley's brave new F1 world in 2006.

The 2.4-litre V8 question is a big issue at the moment. Mosley says that he is insisting on the new engine rules on the grounds of safety and argues that the new rules will reduce power outputs to 650 bhp. The engine designers do not agree, arguing that simple calculations of horsepower per cubic centimetre, show that the new engines will immediately produce 750 bhp and engineers reckon that they will get that back to 800 bhp very quickly. They argue that this will mean minimal safety gains in exchange for a huge amount of cost. Change costs money. And while the engine companies will be forking out millions for the new engines, the teams will also be forced to build new cars to house the V8s, rather than modifying existing engines and chassis as several teams have been doing in recent seasons. The engine companies have responded and asked for more limitations on the existing V10s rather than new V8s and some of the teams say that they will take the FIA to arbitration if Mosley attempts to change the V10 formula, which is guaranteed until the end of 2007 in the Concorde Agreement. Mosley says that the clause in question is "footling" in its importance but the threat of arbitration is clearly something which he is worried about because in Shanghai he made a speech which was clearly aimed at deterring the engine manufacturers from challenging his authority.

"Motor sport cannot take the risk of going on with these very powerful engines in the light of evidence we've had of the inherent dangers," he said. "The main boards of these companies should give very careful consideration to litigating against us. They should not use their huge financial resources to force an independent governing body against their judgement to go along with something adjudged to be dangerous. It is not just the drivers and marshals we worry about; the people in the grandstands are entitled to believe we have taken all steps to make sure it's safe."

The FIA President went on to recall the Le Mans disaster of 1955 and said that society has changed since then and that motor sport could not survive such an accident in the modern era.

From these comments one can only conclude that the clause in the Concorde Agreement is not so footling as to be ignored. Mosley is right to think that the FIA should not be bullied on the question of safety; but he must also bear in mind that the federation should not be trying to force change when recent agreements are in place. It is only a few months since Mosley himself gave Williams and McLaren a written commitment that F1 would remain with V10 engines until the end of the Concorde Agreement. If horsepower is a problem now, it was a problem then.

The big automobile companies agree with Mosley that motor sport should be as safe as possible and in many respects the fact that so many have chosen to be in F1 is an indication that Grand Prix racing is incredibly safe. This is backed up by the fact that conservative organizations such as banks and insurance companies are now F1 sponsors, which was never the case to the same extent in the past. Some of these companies, notably Mercedes-Benz and Allianz have gone to great trouble to help the FIA with safety on the roads and on race tracks, particularly with innovations such as the HANS device. There is always going to be a small risk of a big accident in F1 but there are much bigger risks in other areas of the sport.

The rallying world is trying to deal with safety at the moment as there is much more potential for a massive accident in that series than there is in Formula 1. Obviously Mosley should be worried about anything that is unsafe but F1 has an astonishingly good record in this respect. Rallying has none of the specialist walls, fences, tyre barriers that are seen in F1 and yet the cars are hugely powerful. When they go off they hit trees. Only last year Mark Lovell and his co-driver were both killed when their WRC-spec car hit a tree in America. In 2002 two marshals were killed on the Donegal International Rally and in 2001 Carlos Sainz went off into a crowd in Wales, injuring 13 people. There are many more examples of such accidents at national and local level but as they rarely receive any international coverage. In an effort to improve spectator safety, World Rally Championship stages have been made shorter and more concentrated. Because there is less of a margin for error, the action is more intense with drivers pushing harder and the action is attracting more people into smaller areas. Policing is difficult and the move has been towards controlled environments such as racing circuits, airfields, military bases and country estates, where crowds can be kept in order, has not been popular with hardcore rally fans.

Mosley's fixation with F1 safety is strange in this respect. It is 10 years since a spectator in F1 was seriously injured (Imola 1994). There have been minor, wreckage-related injuries since then but otherwise Mosley has every reason to be proud of his achievements with F1 safety. There have been a lot of big accidents but no drivers have been killed for more than 10 years and in that time only two marshals have died, both as a result of being hit by flying wheels. The FIA has worked hard to solve the problem of flying wheels and is also working hard to understand wheel-over-wheel crashes.

Mosley's abilities as a lateral thinker and problem-solver are well known and it is strange that he has not pursued the easiest and most-effective way to solve the current problem he sees in F1. If F1 had control tyres, something that is entirely possible to achieve on the grounds of safety, a lot of others problems would be solved. Mosley has shown in the past that tyre regulation is an effective way to slow F1 cars and there have been very clear signs this year that the F1 tyre war is now delving into dangerous territory with a series of high-speed blowouts in recent months, notably at Indianapolis and Spa. The imposition of a control tyre in F1 would cut lap times and cornering speeds instantly to the levels being demanded by the FIA. Such a move would wipe out the need for 2.4-litre V8s until the end of the Concorde Agreement after which new rules can be discussed in the light of new commercial agreements. This might be reducing engines to 2-litre V6s, to bring engine power down to 600 bhp.

Control tyres would also cut costs significantly as they would mean a stop to all tyre development programmes and thus would save the millions being wasted on this activity by all the big teams. A simple limit on tyre supply would further reduce the ability of teams to test as much as they do. As a sideline it might also make F1 more competitive as one of Ferrari's strongest cards in recent years has been the relationship that exists between Ferrari and Bridgestone. The argument that it might make the sport less exciting is not proven and, as we have seen in rallying, Mosley's duty is first to make the sport safe and secondly to worry about the show.

The popularity of F1 is not Mosley's job.

Different tyre companies do add an extra dimension in F1 but at the same time when we had only one tyre supplier in the 1990s the racing was not bad at all. And besides, the tyre war is now so advanced that differentiation between the different companies has become less and less. Today track position and strategy are more important than anything else. In Shanghai Kimi Raikkonen clearly had a faster car than Rubens Barrichello in the early part of the race but he could not overtake, which forced the team to try a risky strategy.

In the past control tyres have been opposed by Ferrari but when the F1 team bosses discussed the matter in Shanghai there was a show of hands which seemed to indicate that everyone is now in favour of such a move. A show of hands is not written document but if the teams could come up with such an agreement, it is hard to see how or why the FIA would object to such an idea. This would reduce Mosley's fears about safety, would negate the need for the complex and expensive switch to V8s and avoid the risk that small teams would go out of business because they cannot afford to design and build completely new cars. And, by agreeing to limit tyres, the FIA would also remove the problem of arbitration and reduce costs for the teams.

It is the perfect solution to the problem and works at many different levels.

The fact that Ferrari seems to have agreed to the idea is interesting and hints that the recent spat with Ecclestone has driven the Italian team into the arms of the GPWC. This organization is playing an interesting game at the moment. Amid all the negative talk and disaster scenarios being peddled elsewhere, there has been a very solid and telling silence from the GPWC members, who appear to have chosen not to respond to the talk that they will soon abandon the sport. Interestingly, there is a strong possibility that Ford may remain a member of the GPWC, despite its withdrawal from F1. Arguments that the manufacturers use and abuse the sport will not really work when they are sufficiently responsible to stay involved in an organization that is designed to ensure that the sport is stable and can grow.

Solidarity and stability are important weapons in F1 politics at the moment. Ford may have left F1 and Renault may also follow. But the other car companies involved appear to be coming round to the idea that the best course of action is to wait and accept what happens between now and the end of the Concorde Agreement in 2007. By then, they argue, the entire political landscape in F1 will probably have changed.