SEPTEMBER 26, 2004
Race incidents from Shanghai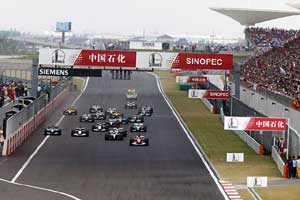 Ferrari decided that it was necessary to change Michael Schumacher's engine before the start and so the World Champion started in the pitlane. The team filled the car with fuel as the race began.

* Lap 1: At the start Rubens Barrichello took the lead with Kimi Raikkonen chasing him. Fernando Alonso made a great start and was third before they got to the first corner, going side by side with Felipe Massa. In the end Massa had to give and was overtaken by Jenson Button. At the hairpin Massa took the place back with a brave manoeuvre. At the end of the lap Barrichello was ahead by 0.6s with Raikkonen second and Alonso right on his tail. Massa was fourth with Button and Fisichella following. Then came Ralf Schumacher and David Coulthard with Ricardo Zonta and Mark Webber rounding off the top 10. Olivier Panis had a terrible start and came slowly off the grid but by the end of the lap was still ahead of the two Minardis and Michael Schumacher.

* Lap 2: Barrichello set the fastest lap and increased his lead to 1.7secs. Alonso could not keep up and fell a second behind the McLaren while Massa came under pressure from Button. At the back Zsolt Baumgartner passed Gianmaria Bruni for 18th. Michael Schumacher closed in on the two Minardis.

* Lap 3: Raikkonen set the fastest lap and closed the lead to 1.3s while Alonso continued to drop away. Button overtook Massa for fourth. Further back Takuma Sato passed Nick Heidfeld to take 13th position and Panis overtook Timo Glock to grab 16th. At the tail of the field Michael Schumacher overtook both Minardis to move up to 18th place.

* Lap 4: Raikkonen set another fastest lap and closed the gap to Barrichello to 0.8s. Alonso was by then more than two seconds behind the pair. Further back Button was traveling even faster than Raikkonen and closed in on Alonso.

* Lap 5: The gap at the front was down to half a second while Alonso was under threat from Button. The two Saubers were scrapping for fifth place and the result was that Fisichella moved ahead and in the confusion Ralf Schumacher got past Massa.

* Lap 6: Raikkonen piled on the pressure and was 0.2s behind Barrichello at the end of the lap. Button was lining to pass Alonso for third. Further back David Coulthard overtook Massa. Down at the back Michael Schumacher passed Glock for 17th.

* Lap 7: Button passed Alonso for third place and began to pull away quickly.

* Lap 8: Button was the fastest man on the track and closed on the leaders. In the midfield Zonta overtook Massa for eighth place.

* Lap 9: Raikkonen and Button both set fastest laps and close on Barrichello. Further back Montoya passed Villeneuve for 11th place but the Canadian retook the place immediately.

* Lap 10: Massa was the first man to stop, indicating that the Sauber driver was on a three-stop strategy. Further back Panis and Bruni also stopped, the Italian driving slowly into the pits.

* Lap 11: Fisichella, Coulthard and Zonta all stopped. This dropped them down the order. Further back Michael Schumacher and Christian Klien collided and the Jaguar driver pitted and retired.

* Lap 12: The two leaders pitted and so Button took the lead with Alonso second, Ralf Schumacher in third and Barrichello and Raikkonen rejoining in fourth and fifth places. Webber was up to sixth with Montoya seventh and Sato eighth.

* Lap 13: Alonso pitted and so Ralf Schumacher moved to second place. Alonso rejoined in ninth place. Michael Schumacher overtook Heidfeld for 10th place.

* Lap 14: Button stopped and the lead passed to Ralf Schumacher. Button rejoined in fourth behind Barrichello and Raikkonen. Villeneuve was up to eighth but then stopped and fell back down the order. Further back Glock dropped behind both Massa and Coulthard, who moved up to 12th and 13th places.

* Lap 15: Ralf pitted and fell back to eighth place. Barrichello was back in the lead with Raikkonen right on his tail. Button was third but six seconds behind the leading pair. Mark Webber also pitted and dropped from fifth place to 14th. Michael Schumacher lost vital time he had a spin. At the back of the field Glock had a stop.

* Lap 16: The order began to calm down with. Montoya was up to fifth but pitted and fell back to 13th, thus getting ahead of Webber and Villeneuve. In the midfield Michael Schumacher overtook Coulthard for 10th place.

* Lap 17: Heidfeld stopped after getting as high as seventh place. He fell back to 15th position. Michael Schumacher overtook Fisichella to move to eighth place.

* Lap 18: Sato stopped having moved up to fourth place. He rejoined in 11th place. Michael Schumacher set the fastest lap of the race.

* Lap 20: As the battle continued at the front and Button unable to keep up (because he had a large load of fuel) Michael Schumacher overtook Ralf for fifth place and then immediately pitted and fell back down the order to 14th.

* Lap 24: Panis stopped for the second time and fell behind Glock.

* Lap 25: Zonta stopped again and fell from ninth place to 14th.

* Lap 26: Massa, clearly on a three-stop strategy, stopped for the second time and fell back from eighth to 14th.

* Lap 27: Raikkonen headed for the pits and so Button moved to second. Kimi rejoined in third place. Further back Fisichella had his second stop and dropped from seventh to ninth.

* Lap 28: The three-stop runners continued with their second stops with Coulthard dropping from sixth to eighth.

* Lap 29: Barrichello raced into the pitlane and Button went into the lead. Rubens came out of the pits ahead of Raikkonen and so was still in a good position for victory.

* Lap 33: After a period of calm the two-stop runners began to pit with Alonso stopping. This dropped him from fourth place to seventh.At the back Glock had his second stop but lost a place to Panis.

* Lap 34: Ralf Schumacher stopped and fell from fourth to seventh. Villeneuve also stopped

* Lap 35: Button stopped and so Barrichello went back into the lead. Raikkonen was second with Button third, Sato fourth, Montoya fifth and Alonso sixth. Further back Webber stopped and fell from 10th to 12th. In the midfield Michael Schumacher had a puncture and at the same time Zonta had a gearbox problem. Both pitted, Zonta rejoined and retired after one exploratory lap. Michael had to change tyres and fell back to 15th.

* Lap 36: Raikkonen came in for a surprising pitstop after a stint of only nine laps. This dropped him behind Button. Heidfeld came in for his second stop.

*Lap 37: David Coulthard and Ralf Schumacher collided. The Williams suffered a right rear puncture and Coulthard had a flat left front when he stopped at the end of lap 38. The stewards announced an investigation into the incident. Ralf Schumacher did not rejoin. At the same time Baumgartner had a spin all by himself.

* Lap 38: Sato and Montoya pitted and fell from third and fourth places to eighth and seventh, the Williams getting ahead at the stop.

* Lap 39: Barrichello had a lead of 23 secs but it was clear that he had to stop again while Button was obviously going for a two-stop strategy. Raikkonen was third and charging again while Fisichella moved up to fourth place passing Alonso. Massa was sixth, Montoya seventh, Sato eighth and the top 10 was rounded off by Coulthard and Webber. Panis has his third stop and fell back from 12th to 14th.

* Lap 40: Bruni lost a wheel and drove slowly into the pits to retire.

* Lap 42: The key moment in the race came when Barrichello came in for his final pit stop. The stop went well and Rubens emerged eight seconds ahead of Button. Raikkonen was third and closing in on the BAR. Fisichella also completed his final stop and fell from fourth to eighth.

*Lap 44: Massa stopped for the final time and fell from fifth to eighth. Villeneuve went off by himself but stayed in 11th place. Michael Schumacher was closing in fast.

* Lap 47: Schumacher overtook Villeneuve for 11th but immediately pitted and fell back to 12th.

* Lap 48: The order was set with Barrichello leading Button but the gap coming down. Raikkonen was traveling even faster and closing on both men. Alonso was a lonely fourth. Montoya was fifth, Sato sixth, Fisichella seventh and Massa eighth. Coulthard was closing in fast and behind him Webber and Villeneuve were fighting for 10th.

* Lap 56: Nothing had changed with the order but Button and Raikkonen were right behind Barrichello at the finish, the trio having stumbled upon the Villeneuve-Webber battle on the last lap. As they tried to get out of the way Villeneuve nearly overtook Webber for 10th. Massa and Coulthard crossed the line nose-to-tail in eighth and ninth places. Michael Schumacher set the fastest lap but ended the day 12th.