SEPTEMBER 16, 2004
Liuzzi impresses Sauber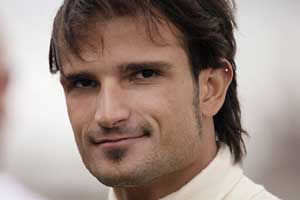 Vitantonio Liuzzi made an extremely positive impression in his Sauber test at Jerez today, even though it was beset by numerous mechanical problems. Within 15 timed laps on old tyres and a high fuel load the new FIA Formula 3000 champion lapped in 1m19.7s and quickly got to grips with both car and circuit. Unfortunately, clutch slip then led to lengthy delays, but when he got back on track Liuzzi recorded a best lap, still on the standard Bridgestone tyres, of 1m 18.9s. That compared very favourably with Felipe Massa's time of 1m 19.012s in similar configuration from Tuesday.

Later Liuzzi tried a set of the latest Bridgestone tyres, with which Massa had recorded 1m 16.794s the previous day, but the result was serious understeer. The test was then curtailed by a differential failure before he could make changes to the car.

Liuzzi impressed the engineers with his speed, the standard of his feedback and the cleanness of his driving style, technical director Willy Rampf in particular praising his contribution to the test programme.

"Vitantonio used the morning to familiarise himself with the car," he said. "He coped with the driving and the different set-up possibilities astonishingly soon. His work and feedback concerning the car handling were pretty good and useful for the engineers. His lap times were quite constant and improved steadily. In the afternoon he was able to participate in the Bridgestone tyre programme in preparation to the Chinese Grand Prix. Overall I have to say that considering that it was just a one-day test he managed this work really well."

It remains to be seen what Liuzzi's next step is, now that the chance of a race Sauber drive for 2005 appears to have evaporated with the signing of Jacques Villeneuve.

"In the morning the track conditions were not the best otherwise I'm sure I could have been quicker, but in the afternoon it improved and we were able to complete our programme," Liuzzi said. "I felt really good in the team. It was important for me to do this test, to understand how this team works and to run as many kilometres in a Formula 1 car as possible."