SEPTEMBER 3, 2004
Final Day of Testing at Monza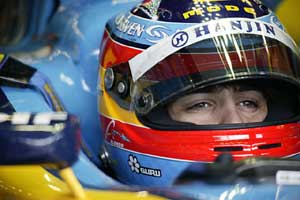 Fernando Alonso topped the times at 1:20.621 in the final day of testing at Monza this afternoon. Alonso is the third driver in the last three days to top the time sheets for the group test - following Michael Schumacher and Antonio Pizzonia.

Although the Renaults did not seem too quick on days one and two, they appeared a lot closer to the front during today's final session. They have been concentrating heavily on setups for the upcoming Italian Grand Prix. Both drivers have reported that they have made excellent improvements to the car's handling during the day.

"Our final day of testing at Monza was relatively trouble-free, and both drivers have achieved a balance they are reasonably happy with," commented chief test engineer Christian Silk, " This will provide a good starting point for them in free practice next Friday. Overall, we have had a successful week, making our tire choice for the grand prix, and without experiencing any mechanical problems with the engines at all, which is and extremely encouraging sign."

Jenson Button took second place continuing to show BAR's competitive performance. Also on track for BAR was Anthony Davidson, while Takuma Sato headed to Santa Pod Raceway to complete the team's shakedown. Davidson was sixth fastest for the day.

Williams-BMW held the third and fourth position with Montoya just slightly quicker than Pizzonia. "We've had a productive test," technical director Sam Michael summed up, "We worked on insuring that we have a solid brake and engine cooling package for next weekend's grand prix, while also evaluating different mechanical and aerodynamic set-ups."

Kimi Raikkonen who finished second to Pizzonia yesterday, was a little further back on during today's test and only narrowly beat McLaren test driver Alex Wurz's time.

The top ten was completed by Ferrari test driver, Luca Badoer and Jaguar's Christian Klien. Badoer had already been scheduled to take Michael Schumacher's place today despite the 2004 World Champions heavy crash yesterday during testing.

All of the teams were on the track except for Minardi Cosworth who conducted their testing sessions at the Vallelunga Circuit, near Rome today. Champcar and Superfund World Series by Nissan driving star, Tiago Monteiro took the wheel of the Minardi PS04B to get himself acquainted with the F1 car while doing some setup work for the team.
<table cellpadding="4" cellspacing="0" class="wsw-tstable"> <tr><td colspan="6" class="wsw-tstitle"> Saturday Qualifying Session</td></tr> <tr><td class="wsw-tspos">POS</td> <td class="wsw-tsdrv">DRIVER</td> <td class="wsw-tsnat">NATIONALITY</td> <td class="wsw-tsent">ENTRANT</td> <td class="wsw-tstir">TIRE</td> <td class="wsw-tstim">TIME</td></tr> <tr><td class="wsw-tspos">1.</td> <td class="wsw-tsdrv">Fernando Alonso</td> <td class="wsw-tsnat">Spain</td> <td class="wsw-tsent">Renault</td> <td class="wsw-tstir"><img src="http://www.grandprix.com/gif/tire-m.gif" width="16" height="16" border="0" /></td> <td class="wsw-tstim">1:20.611</td></tr> <tr><td class="wsw-tspos">2.</td> <td class="wsw-tsdrv">Jenson Button</td> <td class="wsw-tsnat">Britain</td> <td class="wsw-tsent">BAR-Honda</td> <td class="wsw-tstir"><img src="http://www.grandprix.com/gif/tire-b.gif" width="16" height="16" border="0" /></td> <td class="wsw-tstim">1:20.692</td></tr> <tr><td class="wsw-tspos">3.</td> <td class="wsw-tsdrv">Juan Pablo Montoya</td> <td class="wsw-tsnat">Colombia</td> <td class="wsw-tsent">Williams-BMW</td> <td class="wsw-tstir"><img src="http://www.grandprix.com/gif/tire-m.gif" width="16" height="16" border="0" /></td> <td class="wsw-tstim">1:20.770</td></tr> <tr><td class="wsw-tspos">4.</td> <td class="wsw-tsdrv">Antonio Pizzonia</td> <td class="wsw-tsnat">Brazil</td> <td class="wsw-tsent">Williams-BMW</td> <td class="wsw-tstir"><img src="http://www.grandprix.com/gif/tire-m.gif" width="16" height="16" border="0" /></td> <td class="wsw-tstim">1:21.035</td></tr> <tr><td class="wsw-tspos">5.</td> <td class="wsw-tsdrv">Jarno Trulli</td> <td class="wsw-tsnat">Italy</td> <td class="wsw-tsent">Renault</td> <td class="wsw-tstir"><img src="http://www.grandprix.com/gif/tire-b.gif" width="16" height="16" border="0" /></td> <td class="wsw-tstim">1:21.035</td></tr> <tr><td class="wsw-tspos">6.</td> <td class="wsw-tsdrv">Anthony Davidson</td> <td class="wsw-tsnat">Britain</td> <td class="wsw-tsent">BAR-Honda</td> <td class="wsw-tstir"><img src="http://www.grandprix.com/gif/tire-b.gif" width="16" height="16" border="0" /></td> <td class="wsw-tstim">1:21.131</td></tr> <tr><td class="wsw-tspos">7.</td> <td class="wsw-tsdrv">Kimi Raikkonen</td> <td class="wsw-tsnat">Finland</td> <td class="wsw-tsent">McLaren-Mercedes</td> <td class="wsw-tstir"><img src="http://www.grandprix.com/gif/tire-m.gif" width="16" height="16" border="0" /></td> <td class="wsw-tstim">1:21.152</td></tr> <tr><td class="wsw-tspos">8.</td> <td class="wsw-tsdrv">Alex Wurz</td> <td class="wsw-tsnat">Austria</td> <td class="wsw-tsent">McLaren-Mercedes</td> <td class="wsw-tstir"><img src="http://www.grandprix.com/gif/tire-b.gif" width="16" height="16" border="0" /></td> <td class="wsw-tstim">1:21.234</td></tr> <tr><td class="wsw-tspos">9.</td> <td class="wsw-tsdrv">Luca Badoer</td> <td class="wsw-tsnat">Italy</td> <td class="wsw-tsent">Ferrari</td> <td class="wsw-tstir"><img src="http://www.grandprix.com/gif/tire-m.gif" width="16" height="16" border="0" /></td> <td class="wsw-tstim">1:21.238</td></tr> <tr><td class="wsw-tspos">10.</td> <td class="wsw-tsdrv">Christian Klien</td> <td class="wsw-tsnat">Austria</td> <td class="wsw-tsent">Jaguar-Cosworth</td> <td class="wsw-tstir"><img src="http://www.grandprix.com/gif/tire-m.gif" width="16" height="16" border="0" /></td> <td class="wsw-tstim">1:21.569</td></tr> <tr><td class="wsw-tspos">11.</td> <td class="wsw-tsdrv">Felipe Massa</td> <td class="wsw-tsnat">Brazil</td> <td class="wsw-tsent">Sauber-Petronas</td> <td class="wsw-tstir"><img src="http://www.grandprix.com/gif/tire-m.gif" width="16" height="16" border="0" /></td> <td class="wsw-tstim">1:21.630</td></tr> <tr><td class="wsw-tspos">12.</td> <td class="wsw-tsdrv">Olivier Panis</td> <td class="wsw-tsnat">France</td> <td class="wsw-tsent">Toyota</td> <td class="wsw-tstir"><img src="http://www.grandprix.com/gif/tire-m.gif" width="16" height="16" border="0" /></td> <td class="wsw-tstim">1:21.996</td></tr> <tr><td class="wsw-tspos">13.</td> <td class="wsw-tsdrv">Mark Webber</td> <td class="wsw-tsnat">Australia</td> <td class="wsw-tsent">Jaguar-Cosworth</td> <td class="wsw-tstir"><img src="http://www.grandprix.com/gif/tire-m.gif" width="16" height="16" border="0" /></td> <td class="wsw-tstim">1:22.113</td></tr> <tr><td class="wsw-tspos">14.</td> <td class="wsw-tsdrv">Ricardo Zonta</td> <td class="wsw-tsnat">Brazil</td> <td class="wsw-tsent">Toyota</td> <td class="wsw-tstir"><img src="http://www.grandprix.com/gif/tire-m.gif" width="16" height="16" border="0" /></td> <td class="wsw-tstim">1:22.271</td></tr> <tr><td class="wsw-tspos">15.</td> <td class="wsw-tsdrv">Nick Heidfeld</td> <td class="wsw-tsnat">Germany</td> <td class="wsw-tsent">Jordan-Ford</td> <td class="wsw-tstir"><img src="http://www.grandprix.com/gif/tire-m.gif" width="16" height="16" border="0" /></td> <td class="wsw-tstim">1:23.503</td></tr> </table>