AUGUST 31, 2004
Ralf continues to sit out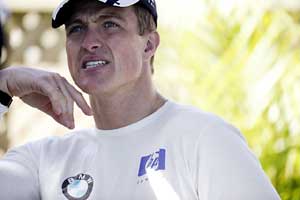 The BMW WilliamsF1 Team today announced that Ralf Schumacher will not take part in the forthcoming Monza test nor the Italian Grand Prix on September 12. A statement issued by the team reads, "Ralf's recuperation continues well, and the German driver is expected to test after the Italian Grand Prix."

Ralf's position in Italy will again be filled by Antonio Pizzonia, whose strong performance and podium hopes at the Belgian Grand Prix were denied after a gearbox failure.

We hear that Ralf has troubles with his insurance because doctors suggested that he would need to take three months off before coming back because of a serious concussion. Ralf may be back to what he feels is full health but the insurance world is very cautious and we hear that the insurers have told Ralf that they are not willing to back him again until the three-month period comes to an end, just in case something happens to him.

This could mean that Ralf will have to sit out the Italian GP and may even have to miss China and Japan because he will not be able to test before the Shanghai event as the three-month limit does not come up until September 20 which will be after the last test before the China-Japan double-header.